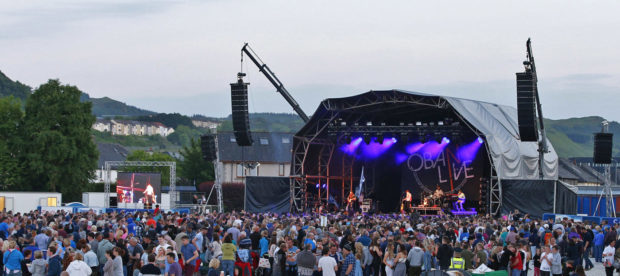 Argyll's largest outdoor music concert has brought chart-topping success to the region by injecting more than £1.4million into the local economy.
More than 8,000 spectators flocked to Mossfield Stadium for this year's Oban Live, with ticket sales soaring by 7% compared to last year.
Figures from a recent economic impact report revealed more than £1.4 million has been invested into the local economy – a 3% rise on 2017.
Naomi Hoolahan, Event Director for Oban Live said: "Since day one of Oban Live, our main aim has always been to bring positive economic benefits to the town, so the news of a rise in visitor spend is very encouraging. Hosting thousands of visitors and building Oban Live to the highest standard is a costly and time consuming job that can't be done without the continued support from our partners, sponsors, local businesses and the local community. A massive thank you to all those involved and we look forward to working with you on Oban Live 2019."
Thousands of music lovers headed for Oban for this year's line-up, featuring pop and rock stars including Skerryvore, Skipinnish, Tide Lines, Hermitage Green and Peatbog Faeries.
Almost two thirds – 63% – of them had travelled from outwith the local area to attend the event; with 99% of survey respondents saying they were in the area as a result of the event.
Councillor Kieron Green for Oban North and Lorn said: "I was at Oban Live this year and it was really fantastic. So many people come to Oban out with the area and they are really welcome. It's a chance to see what Oban has to offer and experience great music at the same time.
"It brings people to the area and it's great for local people; it gives them a chance to see acts like this."
Plans have already begun for next year's highly-anticipated event – taking place at Mossfield Stadium on June 7 and 8 – with tickets expected to go on sale in the coming weeks.