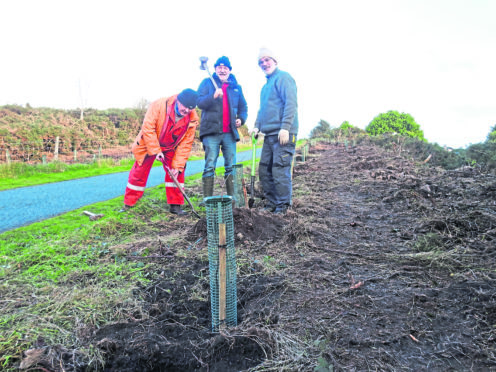 A touching and lasting tribute was paid in the Western Isles yesterday to the souls lost in one of the worst maritime disasters in United Kingdom waters during the 20th century.
Children from Laxdale Primary school and a relative of one of those lost were among among the volunteers to help plant 201 trees near Stornoway's war memorial in memory of the Iolaire.
January 1 2019 marks the 100th anniversary of the tragedy. The ship was carrying sailors who had fought in the First World War back to Lewis.
She left Kyle of Lochalsh late on the evening of 31 December 1918. At 2.30am on New Year's Day, as the ship approached Stornoway, a few yards offshore and a mile away from the safety of the harbour, she hit the infamous rocks "The Beasts of Holm" and sank.
The Iolaire tree memorial is supported by Point and Sandwick Trust and Stornoway Trust.
Representatives from both community trusts took part, including Stornoway Trust trustee Donald Macleod, who lost an uncle in the Iolaire.
His father's older brother had been among those sailors travelling home, after four years of war, on the yacht.
Mr Macleod said: "It's great to be here today. My uncle was on the Iolaire, so it's more part of remembering, it's all part of that family stuff. My uncle was 18 and my father was number 10 in the family, born in 1923, so they never met.
"I'm here through the Trust but it's all interconnected and this is a great memorial for the Iolaire, that will grow, through time."
The tree memorial has largely been organised by Point and Sandwick Trust's Croft Woodland Project Officer Viv Halcrow and the Woodland Trust, which has been running a "Centenary Woods" planting project across the UK from 2014 to 2018 in memory of those who died in the Great War.
Ms Halcrow said: "I'm delighted that we are planting these trees in memory of the Iolaire lost and I'm very pleased that Point and Sandwick Trust and the Woodland Trust and the Stornoway Trust have come together to make it happen.
"I'm also very pleased to see the turnout of people coming to plant trees. It just shows what an important thing the Iolaire was for the island and planting trees is a very apt living memorial."
Trees planted are a mix of native species including downy birch, wych elm, bird cherry, rowan and hazel. They were planted in clumps of five for the most dramatic effect.