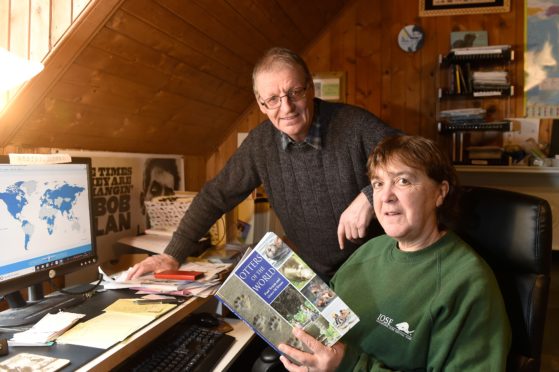 It started as a local environmental centre offering wildlife tours to Skye visitors.
But now, 25 years on, the International Otter Survival Fund (IOSF) has cared for over 200 otters – although the founders say their work is far from complete.
Husband and wife duo Paul and Grace Yoxon have been at the helm for the duration of the 25 years and in the past 18 months, their son Ben has come on board to join the five-strong team in Broadford as an educational officer.
Mrs Yoxon, a director of the IOSF, said: "We set up Skye Environmental Centre in 1985 where we were taking people out to see the wildlife. We felt we ought to be giving more back and after seeing how captivated people were by otters and we thought so little is being done worldwide to protect them that we could focus on them."
The survival fund possesses an otter hospital at its Skye base; however, a real focus has been set on education work to better equip the next generation to care for the safety of otters.
Mrs Yoxon continued: "Because kids are so important in any conservation work, they are the way forward so it has been really good to get in and try and raise awareness and educate.
"Ben has been developing educational materials and visiting school pupils all across the Highlands and Islands including the Small Isles. He is also starting these Team Otter clubs and the aim is to have kids focus on the wetland environment where the otter is the lead ambassador and make them aware of what threats there are to their environment."
Ben said: "Personally I really enjoy it and the fact they have started it and I am their son I can kind of continue the legacy and continue to grow it.
"The main problem with otters is the awareness. Most conservation efforts are on the bigger animals – so the likes of tigers and elephants, mainly the bigger animals you think of with wildlife conservation. Kind of my main job is to get otters on the map so we have a big focus on children."
Although the fund has grown arms and legs from its initial humble days, Mrs Yoxon remains reserved over their achievements to date.
She said: "There is always more work to be done. Personally, I am proud of what we have achieved so far but it is always a so far.
"It would be lovely to sit back and think – well that's otters safe, but in our lifetime it won't happen. There is always more you can be doing. Creating more awareness of otters and what needs to be done, I think that is a big part of painting the picture and moving forward and I think that does come through education."