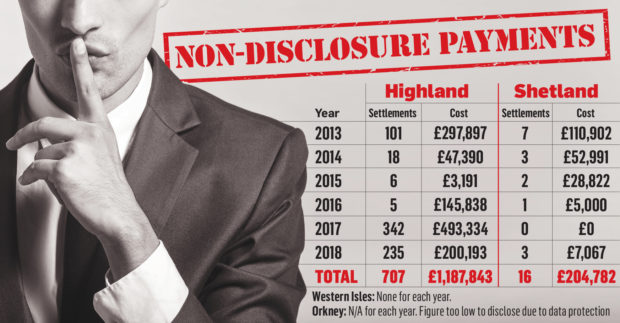 Cash-strapped Highland Council has splashed out almost £1.2million on "secret settlements" with staff – sparking calls for greater scrutiny of public funds.
The authority made 707 non-disclosure agreements (NDAs) – or "gagging orders" – in the last five-and-a-half years.
The majority relate to a long-running dispute in equal pay, with settlements finally being made to cleaners, catering assistants and pupil support assistants (PSAs) at schools.
But there were also cases where council chiefs reached an "economic settlement" on other "employment issues" – the details of which will remain confidential and kept outwith the public domain.
Shetland Islands Council has spent more than £200,000 on 16 NDA settlements.
---
>> Keep up to date with the latest news with The P&J newsletter
---
These contrast starkly with Orkney, where figures were so low that officials deemed disclosure would be unfair in relation to data protection to the few concerned. Western Isles Council had no NDAs.
Last night, Highland Council's opposition leader Maxine Smith described the authority's private pay-outs as "worrying" while Shetland MSP Tavish Scott said the public had a right to know.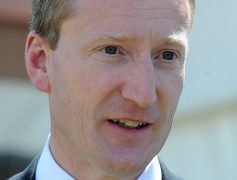 He said: "The public deserve to know what information has been withheld and why.
"Many public officials appear to have signed agreements to say nothing – that suggests that transparency and openness is not what happens in Scotland today."
Ms Smith said: "What immediately springs to mind is what were the agreements trying to hide?  Perhaps therein lies a whole can of worms?
"Whilst the very nature of non-disclosure orders is to "not disclose" them, it seems unreasonable that public money can be spent in this way without the public being able to gain knowledge on the why's and wherefore's of such payments."
Her SNP colleague Ron McWilliam added: "I am absolutely shocked.
"Whilst there may be the occasional circumstance where a non-disclosure agreement is appropriate, £1.2million of council cash having been spent on them over five years sounds far more like a routine culture of cover-up.
"The public has every right to know how their money is being spent and every right to know if there is a problem developing at Highland Council that is necessitating such concerning levels of secrecy, and why on earth that secrecy could be worth as much as £1.2m."
A Highland Council spokeswoman said: "Of the total 707 cases the vast majority 671 relate to payments for 'equal pay' settlements, which has been well documented over the last four to five years.
"There have been 23 payments made under the council's 'early release scheme' in 2017 which was a voluntary exercise to reduce staff numbers in line with budget savings.
"The remaining 13 cases are settlements for employment issues over the last six years where we have reached an economic settlement with the member of staff."
A spokeswoman for Shetland Islands Council said: "None of these sums paid were solely to seek confidentiality.
"Ten of the cases mentioned relate to redundancies or early retirements, in respect of which there are statutory rules to determine the benefits payable.
"Six cases relate to the settlement of disputes at or about the time of termination of employment."
---
A non-disclosure agreement is a legal contract between at least two parties.
It contains confidential material, knowledge, or information that the parties wish to share with one another, but wish to restrict access to or by third parties.
An NDA creates a confidential relationship between the parties to protect any type of confidential and proprietary information or trade secrets.
They have been in the public recently regarding high-profile public figures attempting to keep controversial information confidential.