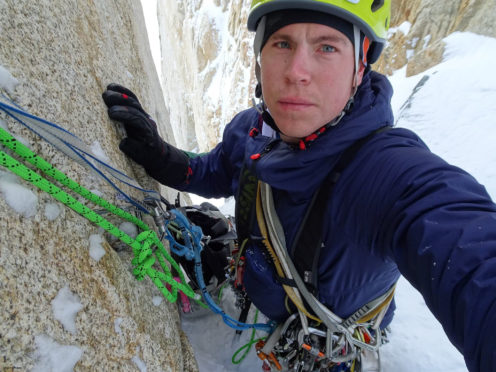 A climber whose mother died on K2 has gone missing on a dangerous 26,66ft high peak known as Killer Mountain in Pakistan.
Tom Ballard, 30, whose family lived in Lochaber until his teens, was climbing Nanga Parbat with Italian Daniele Nardi when they disappeared on Sunday.
The Pakistan army launched two helicopters yesterday after a search was launched for the pair.
Commercial air space was closed in the country due to military tensions with India after two Indian military planes were shot down.
Climber missing on 'Killer Mountain' in Pakistan is from Highland area
The experienced climber had been following in the footsteps of his record-breaking mother, Alison Hargreaves by attempting some of the toughest mountains in the world.
Ms Hargreaves sadly perished on her descent of K2, the second highest mountain in the world,  in 1995 and her body has never been found.
Muhammad Tahir, a support team member for the climbers in the region, told followers on social media: "A rescue mission is being undertaken at the moment to rescue Daniele Nardi and Tom Ballard who have disappeared on Nanga Parbat.
---
>> Keep up to date with the latest news with The P&J newsletter
---
"Despite Pakistan's airspace being closed, the Pakistan Army has made an exception to allow this mission to take place."
Mr Tahir confirmed that experienced Pakistani climbers were due to carry out a search of the area from base camp and climbing to higher peaks.
Mr Ballard had been posting updates on his progress on Instagram before he went missing.
His last photograph posted on February 19 showed him on skis about to go down a narrow gap in the mountain with the caption: "This should be fun!"
In a previous post, Mr Ballard mentioned that he had avoided an avalanche high up on a mountain because he had left the area due to strong winds.
Mr Ballard had previously spoken fondly of his mother who left her two young children Tom, six, and sister Kate, four, with their father while she climbed the peak.
She was the first woman to take on the challenge without the use of breathing apparatus or Sherpa guides.
In a recent interview for Alpinist magazine, Mr Ballard said: "I have very few memories of my mother, sadly.
"For me it is difficult to distinguish between real memories and memories of pictures and film.
"But growing up her legacy made a huge impression on me, the routes she climbed and more importantly the style in which she climbed them.
"She was, and still is, the greatest female mountaineer to ever strap on a pair of crampons. I think she ranks with the top few men as well."
Mr Ballard has been living in Italy's Dolomites mountain range with his father, James, for the last few years.