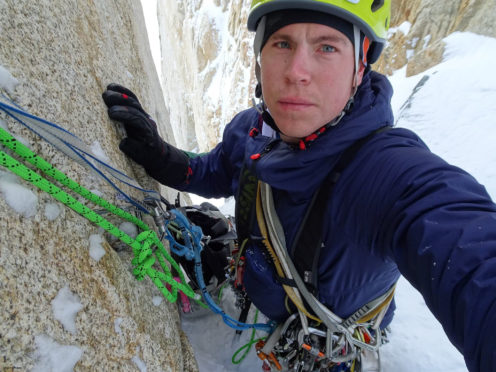 Drones were yesterday brought in after a search for missing Fort William climber Tom Ballard was stood down due to an avalanche risk.
Tom Ballard, whose family lived in Lochaber until his teens, was climbing Nanga Parbat earlier this week when he was reported missing.
The 30-year-old had been on an expedition with Italian Daniele Nardi on the peak known as Killer Mountain, before the two lost contact during their descent.
He is said to have been following in the footsteps of his record-breaking mother, Alison Hargreaves, by attempting some of the toughest mountains in the world.
Yesterday, attempts were made to bring in three drones, operated by Spaniard Alex Txikon, amid the avalanche risk to help search for the missing man.
However, heavy snow lead to a delay in their deployment.
Climber missing on 'Killer Mountain' in Pakistan is from Highland area
Flight authorisation had proven to be difficult amid ongoing turbulence between Pakistan and India, after two Indian military jets were shot down, with a statement issued on Mr Nardi's Facebook page, operated by his support team, claiming the delay was also due to a row over payment for an army helicopter.
The statement, translated from Italian, said: "This morning the helicopter, after having permission to fly, could not take off for weather and administrative issues.
"Askari, the company that runs the flights had to wait despite early morning there was military authorization.
"In Agreement with the information provided the departure of the helicopters has been stopped by the weather that has worsened and Alex Txikon's recovery operation from the base camp of k2 will have to be carried out tomorrow morning."
Italian ambassador in Pakistan Stefano Pontecorvo added: "For a number of reasons including poor weather between NangaParbat and K2 Base Camp, the continuation of the rescue operation of Daniele Nardi and Tom Ballard has not been possible today. Hopefully tomorrow."
Sandy Allan, a family friend of Mr Ballard's from Newtonmore, has climbed Nanga Parbat twice and spoke of the conditions facing the pair.
He told the BBC's Good Morning Scotland: "I'm a little bit worried but he's a really competent mountaineer.
"It's got a reputation for being a very dangerous mountain but if you're a mountaineer it's a super place to go.
"It's a lot colder and that makes it incredibly uncomfortable but if you're a climber like Tom was it's one of the big challenges for people to do so I can understand why he'd want to go there."
Mr Ballard moved to Scotland in 1995, the same year his mother Alison Hargreaves, died on K2, the second tallest peak in the world, when she was 33. Her body has never been recovered.