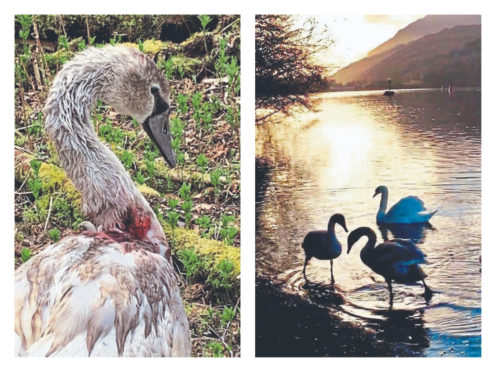 An Inverness student has launched an appeal to fisherman to "tidy up" after themselves following the death of a young swan.
Lea-Anne McHardy discovered the struggling cygnet while on a walk along Loch Oich, near Invergarry.
She immediately called the Scottish SPCA in a frantic effort to save its life – but more than four hours later, the swan was captured and taken to a vet in Fort William.
However, it was put to sleep after a large amount of fishing net was discovered lodged down its neck and into its stomach.
The 37-year-old said she was shocked to discover the extent of the animal's injuries after initially believing it had been attacked by dog.
She said: "I was out for a dog walk in the morning; it's just the usual way we go. We walked down the loch and on the way back I was just looking around and I noticed the swan sitting at the side.
"It was horrible. The majority of the back of its neck was gone. At first I thought maybe it had been attacked by a dog or something but no.
"Because its neck was such a mess, the vet, I don't exactly know what they do, but decided to investigate further inside and that's when they found the fishing line inside its guts and its throat. What they are lead to believe was that it obviously swallowed it after being tangled up and that was it freeing itself but it ripped the back of its neck off."
Meanwhile, Scottish SPCA auxiliary inspector Francis Macleod, who was first on the scene, said: "I was called to an injured swan on Sunday near Loch Oich.
"Unfortunately the swan had an extensive wound on its neck, and after veterinary examination, the decision was made to put it to sleep.
"We are unsure how the wound occurred but upon further examination we discovered a length of fishing line lodged down the swan's neck, blocking the stomach. This meant that the swan would have been unable to properly ingest food for some amount of time, causing it unnecessary suffering.
"It is so important that those who fish are certain to ensure that they properly dispose of their fishing equipment and rubbish as it can have a fatal impact on Scotland's wildlife."
In an effort to prevent further devastation to these animals, student Miss McHardy is now urging eager fisherman to clean up behind themselves.
She said: "I want them to make sure – I have not got anything against fishing – they take away and tidy up any rubbish and to clean up behind them. We see what its caused here, the damage, so whether it rubbish or fishing line or anything lying about, make sure anything they bring they take away with them."