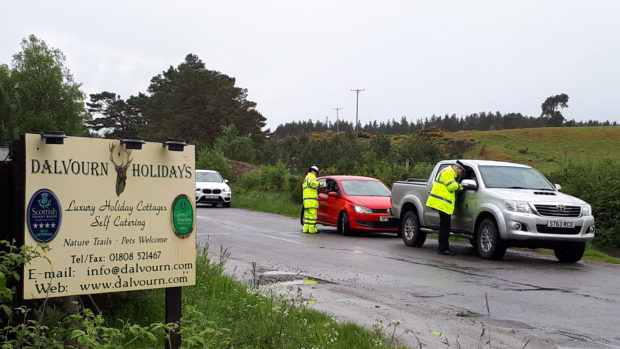 Dozens of motorists in the Inverarnie area were questioned yesterday as police stepped up their search for a missing local man.
Joiner Zdzislaw Palucki. 61 – known locally as JJ – was last seen leaving his home at Dalvourn campsite near Farr in his white Ford Transit van around 4pm on Wednesday.
Searches have been conducted across the area by various dog units and search units since his disappearance, but have so far uncovered no trace of him.
With the force treating Mr Palucki's disappearance as "high risk", officers returned to the entrance to the campsite on the B851 – around the time of his disappearance – to speak to dozens of passing motorists and local residents, as part of their ongoing appeal for fresh information.
Inspector Mark Czerniakiewicz said concerns for his welfare were continuing to grow. He added: "The people that know JJ are very very concerned for his health, just at the time that he went missing. He didn't appear to be well and they are really concerned about him. They reported it to us really quickly and we are trying to find him as quick as we can."
Mr Palucki is described as being 5ft 10in tall and of medium build with short black hair and a short beard.
When last seen he was wearing a red checked shirt and light grey trousers.
The owner of JJ Joinery Home Improvements was last seen leaving the campsite – where he has lived for the last nine years – in his van depicting the registration SA61 WHC.
Police confirmed inquiries had been carried out to see if he had travelled outwith the country – however, Inspector Czerniakiewicz said there has been "no information to suggest he has."
He added: "We have carried out a number of inquiries over the last two days and we haven't traced him as yet.
"If we can find his vehicle, I think that would be really really helpful and we can then sort of have an area to search for him out from the vehicle.
"We are very keen to try and trace him as soon as we possibly can. We have a number of different police departments helping us, we have got the dog section, search teams and we also have the traffic unit with us today.
"For the past couple of days we have been driving round the roads in the local area pretty much continuously trying to find him up a small minor road but we haven't managed to do that unfortunately."
Anyone with information is asked to call Police Scotland on 101.