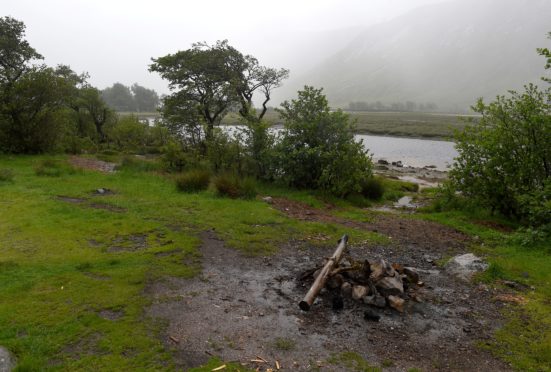 The National Trust has said it plans to take serious action on anti-social behaviour in Glen Etive by bringing together partners and community to discuss the growing problem.
The weekend saw an outcry from residents after some users of the glen again failed to clean up after themselves leaving behind tents, clothes, fires and general rubbish.
The glen is famous to a new generation as a film location in James Bond movie Skyfall, giving a nod to author Ian Fleming whose family have an ancestral home in the area.
The area's councillor Andrew Baxter described Glen Etive as "party central" for the huge numbers of wild campers who came to the glen over 52 weeks of the year and don't clean up after themselves.
Human waste among other rubbish left at James Bond filming location
The National Trust for Scotland (NTS), who are owners of land in the glen, told the P&J that a whole community response to the problem was now necessary.
Emily Bryce, operations manager for the National Trust for Scotland at Glencoe said:
"We share local community concerns about the challenges associated with the growing numbers of visitors to Glen Etive, and this was discussed at a recent meeting of the Glencoe and Glen Etive Community Council.
"As the owners of large stretches of land alongside the road through the glen, we have been dealing with these challenges for a long time and there are no easy solutions."
Addressing a particular concern, raised by residents, over ditches at the side of the road pushing people to camp in lay-bys, Ms Bryce said: "We maintain the long-established ditches at the sides of the road for both drainage purposes and to discourage drivers from driving off verges and parking up further from the road, which spreads damage and erosion further into the surrounding landscape and more sensitive habitat areas.
"We are aware that some feel this concentrates inappropriate parking and anti-social behaviour in passing places and lay-bys, but we still do not think that the solution is to let people park up everywhere with the associated damage this leads to.
Ms Bryce continued: "At a community council meeting, I  proposed organising a meeting dedicated to addressing issues and discussing potential solutions to the challenges in Glen Etive, working through the community council forum.
"This idea was received positively and a date will be set soon. It will be useful to get all key stakeholders together, including local residents, Highland Council and Police.