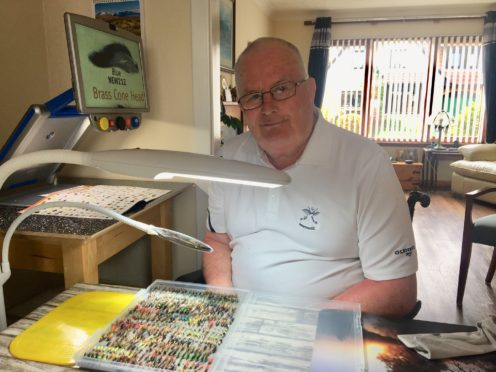 An Inverness veteran who has significant sight loss after suffering a stroke is regaining his life-long fishing hobby with the support of a vision impairment charity.
Royal Air Force veteran, Del Tulloch, 75, was told he would not survive the night when his stroke hit in January last year – but after eight months in hospital the determined veteran is fighting back thanks to support from charity Scottish War Blinded.
The life-changing illness has left the fisherman in a wheelchair and with very poor sight, meaning he can no longer see to tie flies for fishing.
But with a variety of specialist equipment provided free of charge from the charity, including a CCTV reader which magnifies onto a large screen, the master fly-tier is getting to grips with his hobby once again.
Mr Tulloch said: "I've been fishing since I was four and I used to tie a lot of flies. I think it's just being outdoors I liked. I miss that terribly.
"With the CCTV magnifier I can pass on my knowledge of fly-tying to friends. I've started to do this again now."
"At first having a stroke made me angry. It's taken a lot of the things I was used to away. It's changed my life.
"I'm determined. I think because I've been stubborn, that's why I've got on so well."
Mr Tulloch's forces background made him eligible for support from Scottish War Blinded, and he became a member while he was still in hospital last year.