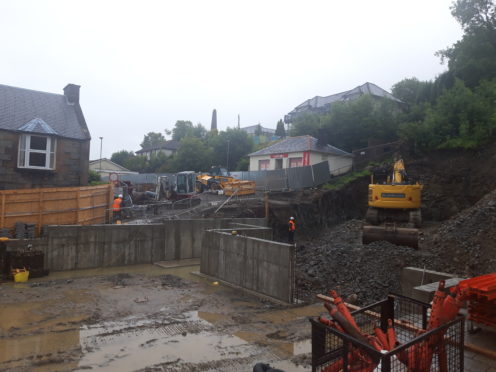 The developer of Fort William's cinema says it is on course to be open in the town by May.
With foundations laid and walls already taking shape, Angus MacDonald, who has funded the project, says a viewing platform to see progress on the building will be erected in the autumn.
It is being built on the same site that the former town hall occupied, on the high street at the top of Cameron Square.
The two-screened cinema with a cafe, bar and small performance space will be open year round.
It expected to create 12 jobs and a further eight people will be employed seasonally. Hiring is due to get under way in January.
And with films such as Bond 25 starring Daniel Craig and Rami Malek, a Bill and Ted adventure in Face the Music, Tom Cruise in Top Gun: Maverick and a new The King's Man – there are plenty of films to show in the new screen.
Mr MacDonald said he hoped the cinema would offer people somewhere to go on "dark evenings and rainy days".
Mr MacDonald added: "The wetter the better from a cinema's perspective."
He continued: "We are pleased to say that the building of the cinema is progressing well and is, so far on schedule to open in May next year.
"The build up of the foundations and supporting walls is nearing completion, and the next major development will be the erection of the steel structure.
"3b, the builders are doing a great job and doing its best to minimise the noise and other disruptions to the town.
"We have also finalised the design for the Highland Cinema logo – you can see it on our group's Facebook page. We are delighted with it, it was designed by Ewan Leckie of My Creative.
"On a Friday afternoon in the autumn we will arrange a viewing platform in Viewfield car park in order for people to view the progress of the building project.
"There will also be the opportunity to ask questions about the cinema.
"More information will be made available about this in due course."
Mr MacDonald also revealed that he had been on a fact finding mission to the CineEurope 2019 to purchase chairs and equipment for the new building.
[fb_page page="
https://www.facebook.com/pg/PJHighlandsIslands
" width="620px" facepile="true