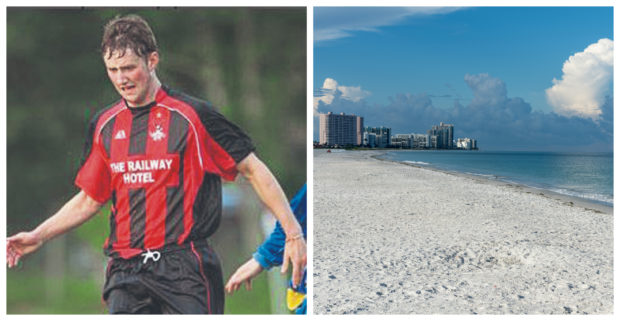 A north man has died after being hit by lightning on a Florida beach.
Garry Perks, 32, died on Wednesday at Morton Plant Hospital in the American town of Clearwater.
Mr Perks had been enjoying a Sunday afternoon outing to Clearwater beach, in the western part of Florida near Tampa, with a group of friends, including his girlfriend.
A storm blew up very suddenly just before 1pm.
Lightning struck behind a beach restaurant, near a volleyball court.
It hit Mr Perks directly, causing him to go into cardiac arrest.
Bystanders, including an intensive care nurse who happened to be nearby, rushed to help him, administering CPR in rotation until the emergency services arrived to rush Mr Perks to hospital.
His girlfriend was also affected, along with two of their friends and another four people.
They are all described now as being in good condition.
Lieutenant Michael Malek of Clearwater police said the incident was utterly tragic.
He said: "It's so sad how something like that could happen.
"Summertime storms like this do happen, but they're not common.
"This one moved in so fast the lifeguards tried to get people off the beach but didn't have enough time."
Mr Perks moved to the United States some ten years ago. He lived in New Port Richey, 27 miles away from Clearwater.
The talented footballer is known to have had spells with Highland League outfit Brora Rangers and his local side Tain Thistle.
It is understood that Mr Perks worked at a home warehouse store near to his home in New Port Richey.
Members of Mr Perks family, including his mother Corinne Nicolson, made their way stateside following the tragic death of their loved one.
A man who answered the door at Mr Perks' mother's home in Tain said the family did not wish to comment.
In a touching tribute to the talented footballer, a representative of the North of Scotland Football Annual said via their twitter page yesterday: "Thoughts with the family and close friends of former Brora Rangers and Tain Thistle player Garry Perks, who sadly passed away this past week.
"Gone way too soon and shall be missed and fondly remembered by many."