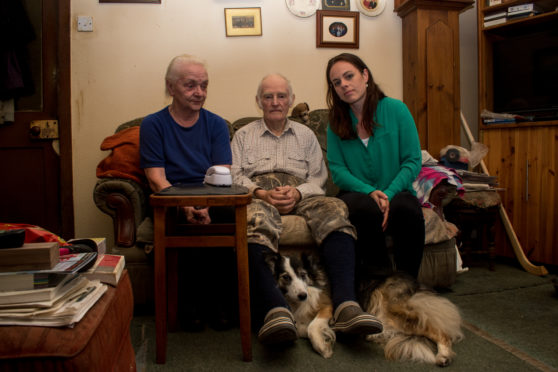 A Highland pensioner has been left in limbo after being left without a phone line for over two months.
John Sloggie, from Invergarry, and his wife Mabel have been cut off from the phone network for the lengthy duration despite over 15 fruitless visits from various engineers in a bid to resolve the issue.
The 80-year-old, who runs one of Scotland's few shinty stick making businesses, has previously had a quadruple bypass and a new heart valve fitted, meaning it is vital that access to a phone line is maintained should the aid of emergency services be required.
Mr Sloggie said: "I need the phone. I have a mobile, but I can't rely on the signal. I need the landline in case my heart goes wrong so I can call the doctor, and my son regularly phones to check how we're doing.
"We're both in our eighties. We've paid every bill on time and I just don't think it's good enough to have to wait nine weeks for them to fix a fault. Words can't really express how I feel."
Mr Sloggie told how he believes his shinty stick business, Munro Camans Ltd, has also taken a hit as potential customers are unable to get a hold of him due to the ongoing fault.
He added: "They are strangling a business. We've been here for 40 years, and 38 of them we have been getting on fine with the cables going overhead, and now they are underground there are countless problems."
Representatives from BT, Openreach and SSE are due to visit within the coming weeks in a bid to diagnose the problem, however, Mr Sloggie and local MSP Kate Forbes have said that this falls way short of the action required.
Ms Forbes said: "It is a very poor show by BT and Openreach to leave an elderly couple without a phone line for over two months.
"This is an absurd situation for a couple who have paid their bills regularly. If Mr and Mrs Sloggie are being treated like this, how many other elderly Highland couples living in remote areas are left isolated and abandoned by poor customer service?
"They are not the first couple I've encountered who've been left stranded for weeks at a time and BT need to sort out their customer service."
A BT spokesman said: "We're really sorry for the delay in getting Mr Sloggie's services back on.
"This is a complex fault and Openreach engineers are working hard to get Mr Sloggie reconnected. We'll keep in contact with Mr Sloggie."
An Openreach spokeswoman said: "We're really sorry to hear about the issues Mr Sloggie has been experiencing.
"As is mentioned, engineers have been investigating this complex issue and investigations are ongoing.
"We'll do everything we can to get to the bottom of this and restore service as soon as possible."