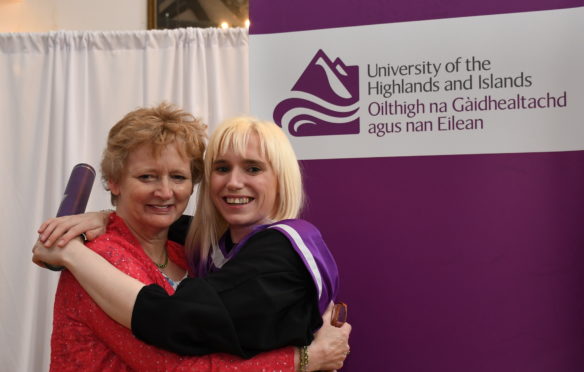 A woman who put her studies on hold to care for her ill mother has finally graduated – and picked up an award at the same time.
Eleanor Lawrie has been named student of the year by the Scottish Association for Marine Science (Sams) in Oban.
The 25-year-old received the accolade while graduating with a BSC in Marine Science.
It has not been an easy road for Miss Lawrie, who initially tried to juggle her studies with looking after her mother as she recovered from brain surgery.
She had just completed her first year of the course when her mother Karen – who she described as her "best friend" – was diagnosed with a brain tumour.
Although the surgery went well, shortly afterwards Mrs Lawrie found out she needed a kidney transplant for an existing condition – and her daughter made the decision to take some time off her studies to look after her.
Miss Lawrie, from Aviemore, said: "My dad died when I was seven, so my mum and I are really like best friends and I had to be with her.
"Thankfully, things turned out OK but I tried to come back too soon and had to take some more time off. It was lucky I did because we got a phone call at home at Aviemore at 4am one day to say that a kidney was ready for a transplant operation in Edinburgh.
"We had three hours to get there and I knew the journey would take two-and-a-half hours."
With the support of staff at Sams UHI, her friends and her mum, Miss Lawrie returned after a gap of nearly two years to complete her course.
She started second year for a third time with a new group of students, but seeing her original cohort graduate gave her the extra incentive to keep going.
She contributed to a forthcoming research paper about the effect of ocean acidification on cold-water corals and now works as a quality monitor and fish welfare officer at Scottish Sea Farms in South Shian, Argyll.
She said: "I was determined to finish. Thanks to the support from Sams UHI staff, my friends and my mum, I never thought I couldn't do it. Sams UHI staff knew about my mum but would often ask how I was. No-one had asked me that for a long time and it reminded me to look after myself too."