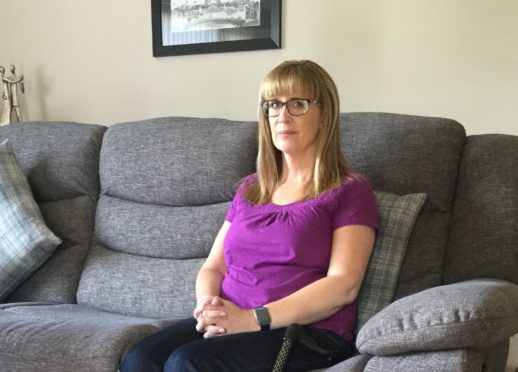 A mother-of-two from Tain who has battled Multiple Sclerosis (MS) for 15 years is attempting to raise £42,000 for what she hopes will be life-changing treatment in Russia.
Since Michele Murray, 46, was diagnosed with the chronic condition she has suffered from fatigue, muscle spasms, balance problems and weakness in her legs and arms.
With her condition deteriorating, Mrs Murray was forced to retire from her secretarial post eight years ago.
But now, she is seeking out treatment unavailable on home soil.
Mrs Murray plans to travel to The National Pirogov Medical Centre in Moscow to undergo a Hematopoietic Stem Cell Transplant (HSCT) – a treatment designed to stop the effects of MS from progressing.
She said: "I was okay to start with, feeling absolutely fine, but gradually over time I began to see there were certain things I couldn't do anymore.
"It has just got worse and worse every day.
"I am not at the "relapsing or remitting" stage just now. My MS is "secondary progressive", the next stage on, which means I am just going to decline more and more."
Mrs Murray is hopeful the treatment available in Moscow will, however, make a major difference to her quality of life.
"This treatment completely halts your MS in its tracks so I won't ever have any relapses after having it done," she said.
"Obviously the damage my body has taken from 15 years of MS is not going to go away overnight but it might gradually improve over time."
She added: "I am at the stage I want to do this. The pros far outweigh the cons of anything.
"Obviously it's like anyone going through an operation. There are risks. Things can go wrong. But they are always there when you go for an operation."
With the clock ticking, Mrs Murray has launched an online crowdfunding appeal which has so far raised more than £9,000.
She said she had been "overwhelmed" by the public's generosity and desire to help.
"Words can't describe it," she said.
"It has been absolutely amazing – just so overwhelming.
"I am not the type of person that likes to be the centre of attention and I don't really like asking for help, but I thought this is the only way to help get me closer to Russia."
Multiple Sclerosis (MS)
MS is a condition that affects the brain and spinal cord, causing problems with vision, sensation, limb control and balance.
Experts in Russia offer sufferers treatment in the form of Hematopoietic Stem Cell Transplant (HSCT).
Patients undergoing the procedure – lasting between four to five weeks – will begin by having their stem cells removed and harvested before they can be reintroduced into the body.
An intense round of chemotherapy is then used to wipe out the immune system before the "good" cells are reintroduced to help rebuild the system.
Morna Simpkins, director of MS Society Scotland, said: "We don't always know exactly what type of stem cell treatments are being offered abroad, whether the clinic is regulated and whether they are experienced at offering HSCT to people with MS.
"If you're not eligible for HSCT on the NHS it's possible to get the treatment abroad, but it is very expensive and complex after care is needed when you return home. We understand that many people with MS will only turn to overseas treatment as a last resort, but this decision should be made with the support of your neurologist & MS team.
"We are currently working to ensure that those who are eligible have a clear pathway for accessing HSCT on the NHS."