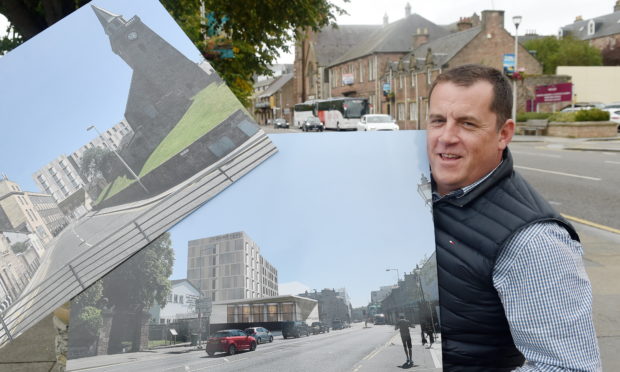 A multi-million hotel development in Inverness is set to bring up to 100,000 visitors a year to the north as campaigners warn closure of a popular music venue on the site would be a huge loss to the city's music culture.
Property developers Bricks Capital outlined plans last month to tear down the Ironworks on Academy Street to make way for their luxury 162-bed hotel for Courtyard by Marriott brand.
Thousands of music-lovers have expressed their disapproval of the plans by signing a number of online petitions.
If approved, the hotel is geared to bring up to 100,000 guests a year to the Highland capital when doors open in 2021.
Ahead of the submission of final plans in November, developers are hosting a public consultation today to allow protesters to state their case.
Allan Davidson, managing director for developers Bricks Capital, said while he fully understands people's attachment to the venue, he feels the hotel is the latest jigsaw piece in "reinvigorating" the area.
He said: "Coming from the city originally, who wouldn't be very proud to bring something this significant into your home town?
Ironworks venue must be replaced to maintain city centre balance, says Inverness councillor
"I have been looking for a number of years, to bring a hotel this size and standing to Inverness. I think this location will absolutely be the right place to put a hotel. This is another piece of that jigsaw which will help reinvigorate that area.
"The Ironworks wasn't built when I lived and worked in the city but I get the point that people are attached to it and it's a bit of a shock. I would urge that if there is a market for that type of venue that someone will see that as an opportunity to custom build and make it perhaps bigger and better."
More than 120 jobs will be created during the building phase of the works and a further 60 /70 full-time and part-time positions at the hotel once completed.
Local musician Matt Drum, 30, who launched an online petition against the plans, has so far gathered more than 4,600 signatures. He says closing the venue would be a massive blow to the city's vibrant music culture.
Petitions launched to save Ironworks music venue amid 'monopolising' development
He explained: "I think the Ironworks should remain where it is. This town is becoming over saturated with hotels and obviously being the Highlands it's very big for its music scene. It's a massive part of the culture of the city so to demolish it without any alternative just over saturates the city centre with hotels."
Highland Councillor Angela MacLean – who has campaigned for more support for music venues – said it would be "difficult to replicate the atmosphere, the love, the emotional attachment and the memories" of acts who have taken to the Ironwork's stage.
The consultation will be held from 2pm until 8pm today at the Mercure Hotel.