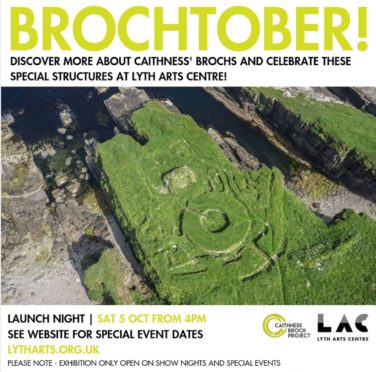 An exhibition in Caithness to celebrate the iron-age roundhouses has been called Brochtober.
Caithness Broch Project and Lyth Arts Centre have joined forces to install the exhibition, which will be held between Saturday October 5 and Sunday November 3, as part of LAC's autumn programme.
Both professional artists and the general public were challenged to create works of art based on brochs and applications for the exhibition were sent in from all over the world, from Shetland to New York, featuring a wide range of styles and mediums.
Kenneth McElroy, Caithness Broch Project director, said: "It's a different way of looking at archaeology – though art and archaeology go hand-in-hand.
"It's been fantastic to see the artwork come in, and see what people think of when they envisage brochs, how can they be adapted, manipulated and reworked."
Charlotte Mountford, co-director at Lyth Arts Centre, said: "We're really excited to be partnering with Caithness Broch Project to host this exhibition.
"We're always keen to explore how arts and culture can connect with heritage as demonstrated in our last two Summer Exhibitions and we know Brochtober will really celebrate our local history."
Several artists have donated works to the project, including Ian Scott, whose work often fetches thousands of pounds.
Others include Lisa Poulsen of Inspired by Caithness, who has produced a broch-inspired "Stonescape", while felt artist Penny Irvine has created an Iron Age scene. Caithness jewellers Lindsey Gallacher and Beth Legg have also produced brooches.
A number of guest speakers have been invited to talk on the themes of art, archaeology and Caithness, in a series of a talks funded by the Greencoat Stroupster Community Fund administered by Foundation Scotland.
Martin Carruthers, director of The Cairns Broch excavation, will speak on Monday October 14 and John Borland of Historic Environment Scotland and Jo Clements of Groam House Museum will talk about Pictish Stones and Scrabster-born George Bain, the eminent proponent of Celtic art, on Wednesday, October 16.
The following day, Edinburgh-based historian David C Weinczok will investigate the Scottish inspiration behind the popular TV series, Game of Thrones.
Families are invited to enjoy a hands-on day of art and archaeology at Lyth Arts Centre on Sunday October 27, with archaeological art by Kate Robinson, Iain Maclean and Chris Gee.
Submissions will then be auctioned off to help raise funds for Caithness Broch Project.