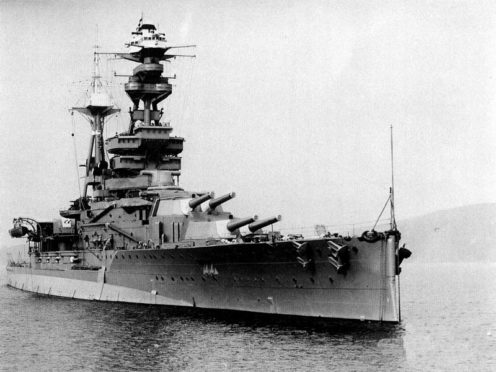 Family and friends turned out to commemorate the 80th anniversary of the sinking HMS Royal Oak yesterday.
The ship was anchored at Scapa Flow in Orkney when it was torpedoed by a German submarine during the Second World War on October 14 1939.
The disaster claimed the lives of 835 men and boys, and it is one of Britain's most controversial naval tragedies.
It also marked the first full-scale acts of hostility against the British since the start of the war.
A service took place yesterday morning at St Magnus Cathedral where vessels departed from Scapa pier for a remembrance event over the wreck of HMS Royal Oak.
Throughout the service, 835 red carnations were placed into the water as well as bio-degradable wreaths.
There were also 1,239 wooden poppies – one for every crew member aboard the ill-fated vessel – which were placed in the ground in advance of the anniversary.
Those present congregated to recall the events when the vessel was destroyed.
Caroline Appleyard, the official artist of the Royal Oak 80 survey, unveiled an evocative painting of the vessel ahead of the commemoration.
She created a limited edition of 200 signed prints, the profits from which will be given to the association.
HMS Royal Oak had returned early from the Home Fleet sweep and took up its role as anti-aircraft defence for the Scapa Flow anchorage.
However, U-47 approached Scapa Flow through Kirk Sound.
The first torpedo struck HMS Royal Oak at 12.58am, but the crew did not think it was a U-boat attack at first.
The wreck is now a designated war grave, but Royal Navy divers have carried out recent surveys at the scene.
Meanwhile, a special display of objects from the ship and her crew is on show at Orkney Museum in Kirkwall until October 26.
Remembering HMS Royal Oak, 1939-2019 features items from the Scapa Flow Museum in Lyness including the bronze name plate from the ship, which was illegally removed by a diver in the 1970s and presented to Orkney Islands Council by The Admiralty in 1995.
Also on display are a series of medals and personal belongings from victims.