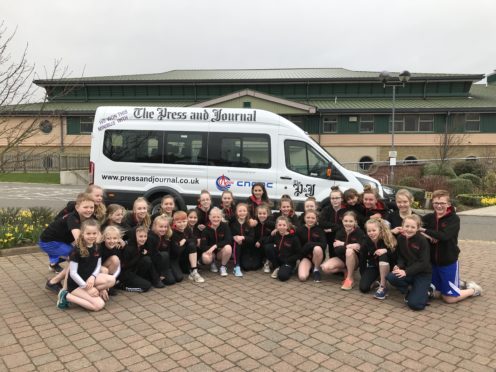 Community groups across the north and north-east are once again in with the chance to win a £40,000 minibus.
For the fifth year in a row, the Press and Journal has teamed up with energy firm CNOOC International to give away the 17-seater bus.
And the countdown is on until registration opens for this year's competition.
Once it does, groups must rally as much support as they can from their community to collect tokens in the P&J. They can enter as many times as they like, as long as each entry form has 50 tokens attached.
Last year, hundreds of organisations – including guides, bowling, golf, church, school and dance groups – took part, with Orkney Gymnastics Club finally driving away with the prize.
The group collected 14,000 tokens to boost their chance of success – enlisting an army of mums, dads, grannies, friends and even neighbouring islands.
Elspeth Mclellan, club secretary of Orkney Gymnastics Club, said that the win had opened up opportunities and made competing across the country more affordable.
She said: "Since we took ownership of the minibus back in March, we have had it away south three times.
"It has reduced the cost of trips to the parents as we only have one vehicle to get on the ferry and fuel to pay for, rather than three or four cars, which is a huge bonus to everyone in the club.
"Our trips are really expensive as we have quite a lot of travelling to do and usually have overnight stays each time too, so everyone is grateful for any way to keep costs to a minimum.
"We have also been able to offer the minibus for use by other local clubs and charities for a donation.
"This helps us to pay the costs involved in owning and maintaining the vehicle, while also provides a fantastic opportunity for other clubs facing the same logistical difficulties as we do."
Ms McLellan said they had been "blown away" by the help not only the Orkney community, but Shetland and Caithness locals who posted vouchers to them.
The group was also supported by the 1st Methlick Scouts, who won their own bus in 2018 to get them to more activities such as camps and raft races.
Setting up insurance and getting to grips with maintaining the bus was "much less daunting" as the two groups – from entirely different backgrounds – exchanged tips from opposite sides of the country.
Ray Riddoch, managing director UK and senior vice-president Europe and Africa for CNOOC International, said: "We are delighted to sponsor the minibus competition again this year.
"Last year's group were worthy winners of the accolade and their entire community has enjoyed the use of the minibus.
"We have no doubt the minibus will have long lasting benefits for the winners and their community."
Registration opens on November 4, and the tokens will start appearing in the P&J on November 18.