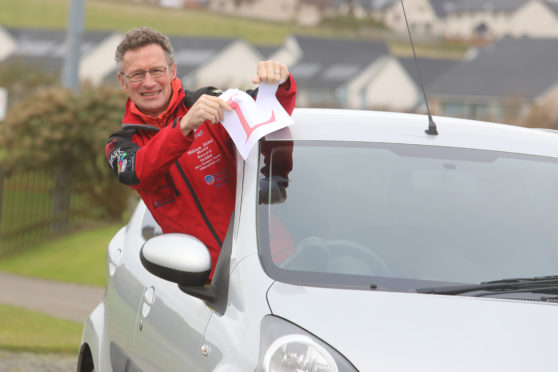 Celebrating the removal of those red L plates from their perch on your first car is celebrated as a rite of passage for most young drivers.
However, a 66-year-old man from Orkney has just undertaken the very same ceremonial passage – despite driving under his own accord legally for more than 30 years.
William Sichel, an ultra-marathon competitor who has undertaken many daunting challenges, decided he would up sticks and move from his home on Sanday to mainland Orkney.
But only then did he realise he would have to take that dreaded test to change the tinge of his licence card from green to the proud and glorious pink of being a full licence holder.
After undertaking nine lessons with local driving instructor Leslie Hourston – who took Mr Sichel on prior to his retirement – the 66-year-old passed at the first attempt, navigating his way through the tricky obstacle with just three minors.
Mr Sichel, who has driven for 37 years on his home island of Sanday on a provisional licence – as is possible under DVLA regulations – said yesterday that the achievement of passing his driving test is "one of his more unusual challenges".
He said: "I had the old green paper licence which the instructor nearly fell over at as he has only ever seen one in his career.
"I lost my wife two-and-a-half years ago and after moving to Sanday in May '82 I decided it is time to move on and move to mainland Orkney. It is a much bigger place and I thought it would be handy to drive around on my own.
"I was quite intimidated as there was somebody watching my every move. It made me a bit tense and nervous as you start thinking 'ooh I maybe shouldn't have done that' but by the fifth or sixth lesson I calmed down and from there it was plain sailing."
Mr Sichel admits that he is now a better driver after undertaking his test, but also conceded that he is only just getting used to having the radio on in his vehicle after the brief absence for lessons.
Under DVLA regulations, drivers who hold a provisional licence are authorised to travel alone on "exempted" islands, from which motor vehicles cannot at any time be conveniently driven to a road in any other part of Great Britain.
Islands in the north excluded from this include: Arran, Barra, Bute, Harris, Lewis, mainland Orkney, mainland Shetland, Mull, Uist and Tiree – leaving many of the remote Shetland and Orkney isles free for provisional licensees to roam at their peril.