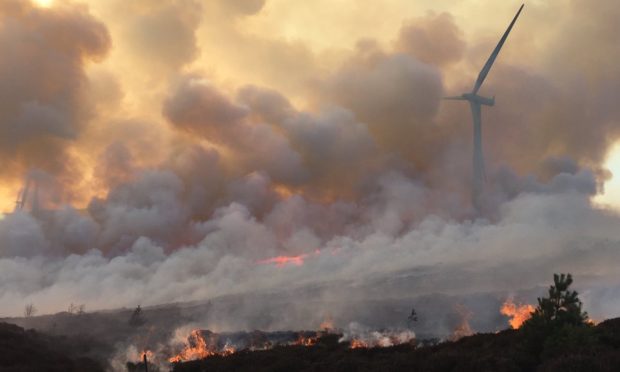 Almost every part of the north of Scotland experienced an increase in the number of fires in 2018/19.
The concerning figures are revealed in the latest fire incident statistics released by the fire service.
The only exceptions to the rule were the island authorities of the Western Isles and Shetland, which saw a drop.
Moray has seen the biggest increase in total fires from 17/18 to 18/19 at 84%.
Aberdeen City experienced 1,026 fires, up from 806 in 17/18. Aberdeen had the highest rate of malicious false alarms.
Aberdeenshire had 789 fires last year, compared with 684 the previous. Argyll and Bute had 337, previously 314.
Then trend continues in Highland which had 1,078, up from 1,012. In Moray it was 415 up from 225.
Western Isles had 126 fires, a decrease from 147 the previous year. Shetland also experienced a decrease with 49 fires, down from 56.
Orkney islands weren't so fortunate as to see similar decreases, there were 53 fires compared to the previous year's 36.
Orkney had one of the highest rates of dwelling fires with no smoke alarms present.
The growing number of fires was reflected throughout Scotland, with a report by the fire service blaming an increase in outdoor fires, which are linked to the weather.
Writing in the report published yesterday, a spokesman for the fire service said: "In 2018-19 the Scottish Fire and Rescue Service (SFRS) attended 92,432 incidents. This is a slight increase (0.6%) on 2017-18 (91,896).
"False alarms make up the largest share of incidents and have increased slightly (0.4%) on 2017-18 to 52,770 (up from 52,551 last year), the highest number in 10 years. The increases are mainly due to detecting apparatus.
"The number of fire incidents increased by 2.1% from 26,172 last year to 26,726 in 2018-19, driven by an increase in outdoor fires which are known to be linked to weather patterns."
Shocking localised figures showed a spike in wilful fire raising in the Cromarty Firth area.
Fire fighters attended 38 deliberate fires in the ward during the first half of 2019/20.
Area Commander in the Highlands Rab Middlemiss said: "We have a very clear, zero tolerance approach to deliberate fire raising because it puts our communities at great risk.
"It presents a danger to life, property and the environment – not to mention the potential impact on rural businesses which are important to the Highland economy.
"However, despite a very warm and dry spring and summer period, we have seen an overall reduction in the number of fires in the area compared to last year, and we remain absolutely committed to driving the number of such incidents further down."