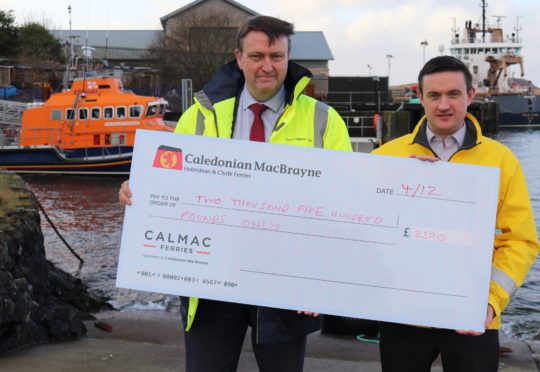 Ferry workers have helped raise £2,500 to support new crew members joining the Oban lifeboat.
CalMac pledged to donate £2 to the RNLI for every survey form returned during a recent exercise to gather feedback from staff on what they thought about the company and to provide ideas on how to improve the business.
Robert Morrison, CalMac director of operations, said: "We were delighted that so many staff took the time to fill in their forms, not only did we get valuable information about how we can work better as an organisation, but we are able to help out an organisation that does so much to keep west coast waters safe."
Last year CalMac took part in 14 rescue operations with the RNLI and are a valued partner to the emergency services in any incident they are able to assist with.
Mr morrison said: "We train regularly for emergency responses with the Oban crews so know them well and with many of our own staff RNLI volunteers it was a perfect fit when we were looking for an organisation to support. It was also a great incentive for staff to contribute their thoughts to help us improve our services."
The donation will be used to train two new lifeboat crew members and supply them with the equipment they need to become fully operational.
Last year was one of the lifeboat's busiest ever.