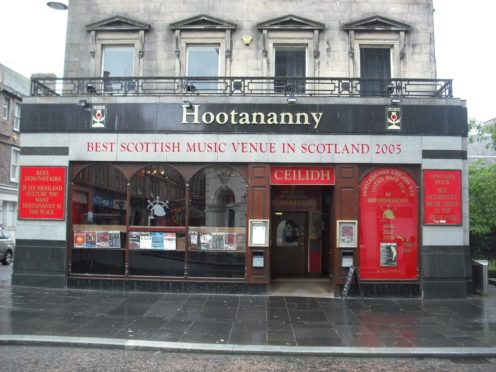 Music fans in Inverness are facing another devastating blow after plans were lodged to convert part of a popular venue into a backpacker's hostel.
Hootananny's owner Kit Fraser has lodged plans to transform the first and second floors of the popular Church Street venue into a 30-bed hostel with manager's accommodation.
If approved, the existing Mad Hatters venue and Glow Bar would be refurbished to make way for five dormitory rooms alongside a number of amenities.
However, the ground floor bar and staging area would remain untouched.
Mr Fraser said the decision to revitalise the award-winning venue was spurred on by ongoing developments and investments being made in the city, however, stressed he did not know if he would proceed with the plans.
He said: "If there is a tidal wave of competition, I would be an idiot not to think ahead and keep my options open.
"The last thing I want to do is loose Mad Hatters and the cocktail bar. It has been fantastic. Mad Hatters has a reputation of encouraging up-and-coming new bands.
"I cannot sleepwalk into the future."
The news comes just five months after controversial plans to demolish the Ironworks Music Venue to make way for a multi-million pound hotel were announced.
The 162-bed Courtyard by Marriott hotel was proposed by property developers Bricks Capital, creating more than 120 jobs during the building phase and a further 60/70 full-time and part-time positions following completion.
The plans sparked a hasty campaign by locals in an effort to save the much-loved venue, with closed talks continuing to help find a suitable new home for the venue.