A Skye B&B was left devastated by an early morning blaze.
Cairn View in Borreraig in the north-west of the island, was burnt to a mere shell as the fire ripped through the building.
All occupants of the B&B were accounted for swiftly yesterday with all said to be "safe and well".
The owners of Cairn View were too upset to speak of their experience last night.
The fire service last night confirmed a joint investigation with police will take place to establish the circumstances leading to the fire – but first, the scene will have to be examined by a structural engineer.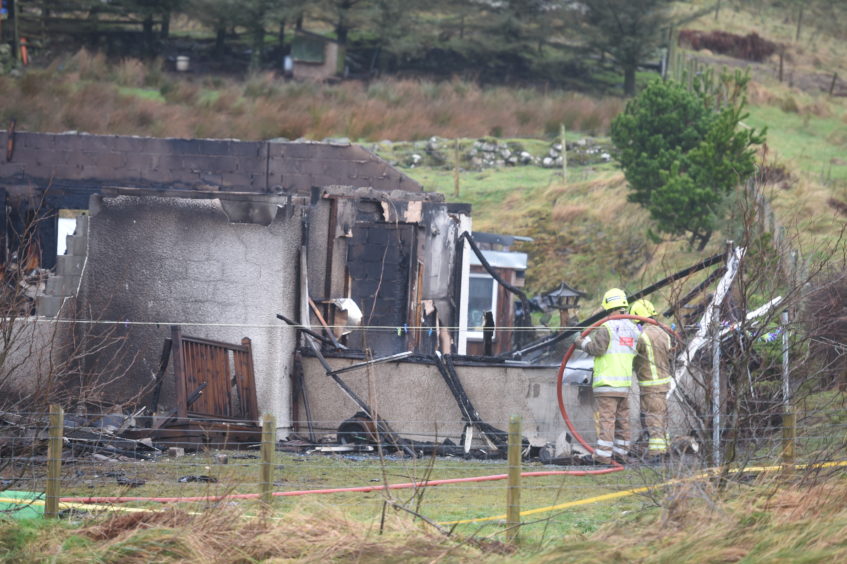 Three fire crews from the island attended the property as efforts were made to save the building after the alarm was raised at 7am, however, a fire spokeswoman said the property was "well ablaze" by the time crews arrived.
She said: "We received reports of a fire at a B&B in the Dunvegan area of Skye around 7am.
"Three crews from Dunvegan, Portree and Uig were sent to the scene with Dunvegan arriving on scene at 7.29am.
"Crews reported that upon arrival the building was well ablaze and the roof had collapsed.
"One hose reel jet was in use along with two lines of 45 hose.
"All occupants of the building are safe and well."
For much of yesterday afternoon, one crew from Dunvegan remained on scene to dampen down the building to ensure there were no further flare-ups.
Skye councillor John Finlayson expressed his shock at learning of the blaze and sent his well wishes to all involved.
He said: "It is never good to hear of incidents like this and to have a fire is devastating but particularly at this time of year.
"I am delighted that nobody has been injured and that everybody was able to get out of the property unharmed.
"The fire service deserve a lot of praise for getting there in time and I wish the family well in this situation.
"It is a bad start to 2020 but I hope the rest of the year will improve for them from here on out."