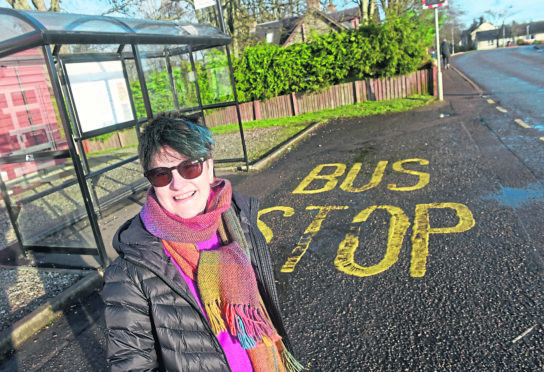 Residents of a Highland village are rejoicing after Stagecoach announced plans for a 'new and improved' service, having been inundated with complaints from dissatisfied customers.
Council representatives and users of the number 28 service in Kiltarlity lodged numerous complaints against the transport operator in September last year citing the failure of the village's lifeline service.
During a number of meetings held with Stagecoach, irate residents spoke of how they were being left in the cold as the service failed to run to timetable or turn up at all.
In a bid to ease their concerns, Stagecoach have now pledged to run an improved service for the community, which will come into effect on February 10.
Norman Grant, chairman of the Kiltarlity community council said he is "glad they have taken action for the good of the community".
He added: "There are around 120 new houses in Kiltarlity in the last couple of years so it has increased the population and there are a lot of folk that rely on the bus to go back and forth to work.
"They have certainly worked with us to improve the service so we can only thank Stagecoach for their help in assisting with that."
Highland councillor Emma Knox said both the community and Stagecoach were deserving of praise.
"This is a fantastic result for the residents of Kiltarlity and the surrounding area," she said.
"The bus service is a lifeline for many people in our remote and rural villages.
"A regular, reliable bus service is also crucial to the local economy as it helps ensure our young people choose to stay here and that businesses and families will continue to move to this beautiful part of the country.
"The outcome is all down to the hard work and persistence of the local community council.
"It was looking shaky for a while, with a reduced weekday service and the Sunday service being axed  altogether, but Stagecoach really turned it around, engaging with the community and listening to their concerns."
Drivers assigned to the number 28 service will now be given additional time to complete the run, to prevent delays and cancellations to the service.
Additional services are also being introduced along the route as well as the reintroduction of the community's Sunday service.
Full details of the new timetable are scheduled for release next week.
For local resident Chloe Hardy, the news comes too little too late after she was left waiting for 45 minutes, in bitterly cold conditions, for a bus.
She said: "I wish them all the best of luck and I hope that they can deliver a better service for the village but certainly I am not willing to put my health at risk any more."
Kiltarlity community council member, Susan Ogston, said she hopes the community make the most of the new service.
She said: "We can only hope now the local people use the services provided as a viable travel option for work."
A Stagecoach spokeswoman said: "We have made a number of changes to our plans following the consultation, full details of which will be released next week."