GALLERY: Return to traditional colours as final preparations delivered to fearsome beast ahead of Up Helly Aa
By
Chris MacLennan
January 28, 2020, 8:01 am
Updated: January 28, 2020, 11:34 am
A fearsome beast decorated with red and white stripes will take pride of place today as this year's Guizer Jarl has gone traditional with the famous Up Helly Aa galley.
Each year, volunteers gather for months before the event to construct the impressive boat, with its design kept under wraps until the morning of celebrations.
This year's Guizer Jarl Liam Summers has opted for the red and white stripes along the hull.
A new scumbling effect – applying a very thin coat of opaque paint to soften or dull the colours – has been deployed for the first time.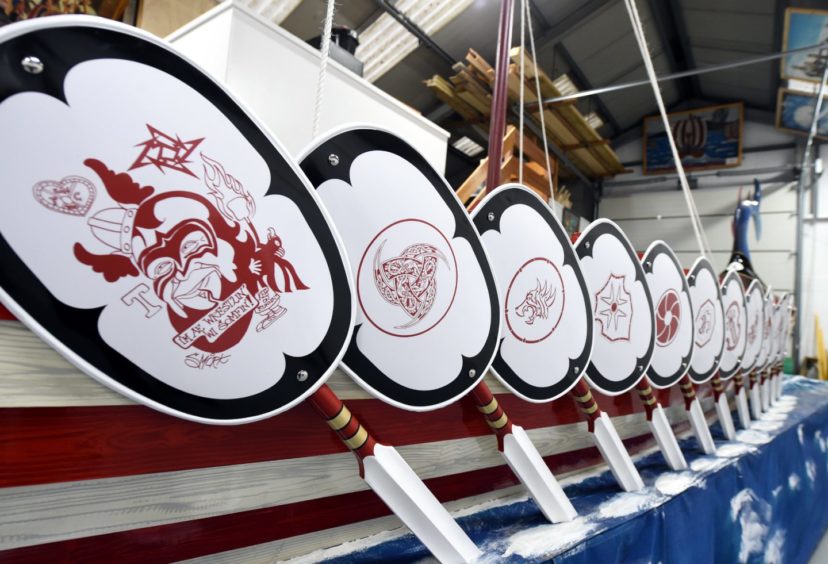 This year's design is a throwback to galleys of years gone by which would usually be decorated in the same distinctive manner.
And, as always, the impressive efforts of all the builders and painters will go up in flames this evening – much to the joy of the expected thousands who will line the streets of Lerwick to capture a glimpse.
Yesterday, volunteers put the finishing touches to the craft before it joins the procession today.
Galley foreman Ryan Leith said: "This is the first time they have put stripes on it and it has been scumbled, but I think it looks great.
"It has been so well received.
"This is the most important time of year to me by far. It is more important than Christmas and New Year or whatever and we want to make it the best we can to keep the tradition going."
Brydon Wright has the honour of constructing the head and tail each year, a role which was passed to him nine years ago and one he says is a privilege to carry out.
He said: "It is mainly out of memory. You have got some templates but there is a lot of craft involved.
"It's a great job. It's so important that the tradition is continued. It was handed down to me and I will have to hand it on one day.
"It is the sign of Up Helly Aa and the head is always the bit I remember from being a kid so it really is an honour to construct."
Approximately 1000 guizers are to parade the streets from the early morning before taking off to schools and care homes to share the celebrations, ensuring nobody is left out