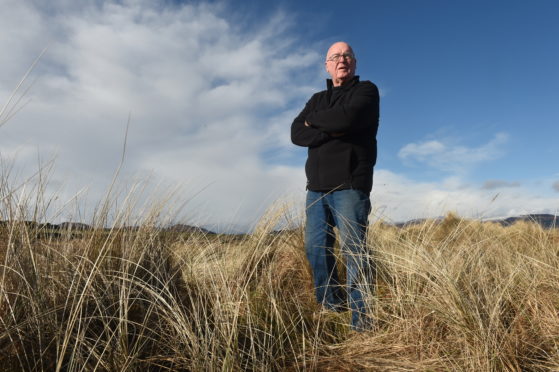 A Highland councillor has challenged opponents to the luxury Coul Links golf development – who are celebrating its rejection – to provide an alternative plan to regenerate the Sutherland community and make up for "the £10million lost opportunity".
The plans were thrown out last week by the Scottish Government following a public inquiry, despite the project being supported by many who claimed it would provide a much-needed economic boost for the area.
East Sutherland and Edderton independent councillor Jim McGillivray has now "called to account" those who objected and suggested they form an action plan to regenerate the deprived area.
And he has written to Highland Green MSP John Finnie, one of the high-profile political opponents, to lead this, stating that the many vocal opponents should "compensate in some way for their participation in the destruction of one of the most opportune development opportunities ever to come to Sutherland".
The councillor, who lives next to the site, said: "If ever a place encapsulates sheer degenerative despair in a single miserable and depressing landscape, it must be Coul Links.
"Briefly it seemed to have a future. Now, as things stand, it has only a past.
"The chance to have an instant £10million capital investment, with ongoing annual revenue activity of at least £1 million, would have turned the economic fortunes of this area in an unprecedented way. That chance has been lost forever."
He added: "I am clear in my mind that every effort must now be made to find some compensatory initiatives to seek to atone for this major loss, and that it now behoves those individuals and groups who opposed this development to step up to the mark and come to the table with ideas and finance.
"Now is not the time for people such as these to inflict great economic damage and then slither swiftly south in exultation, back to the security and anonymity of their salaries, pensions, and personal wealth.
"It is a time for them to take the mature responsibility of their professional status and return here immediately to promote alternative and immediate socio-economic developments.
"It is time for such groups to put their money and expertise where their mouths are and deliver."
Mr Finnie responded: "Councillor McGillivray's disquiet at the Coul Links decision is evident. In previous exchanges he assured me that 'the referee's decision is final and we will abide by whatever call is made'.
"Sadly, his recent personal and pejorative emails, including calls for a review, suggest otherwise.
"He should be aware that the statutory duty for economic development lies with HIE. I can neither bypass public bodies nor micro manage local issues."