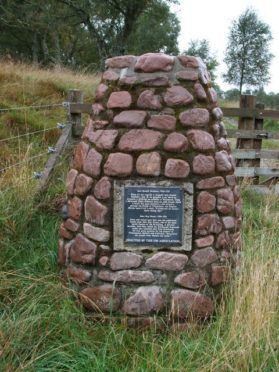 "Great are the depths of my sorrow, as I mourn for the wounds of my land."
It may sound like a comment on the current crisis, but it is the opening of a poem written by an officer wounded in the Battle of Culloden as he reflected on the disaster of defeat.
This year's traditional commemoration of the infamous 1746 conflict has had to be cancelled due to the coronavirus pandemic.
Instead, the 1745 Association, a group set up to study the Jacobite period and record and preserve the memory of those who participated in it, will mark the occasion online.
In remembrance of the battle's anniversary on April 16, the association have uploaded on their website a translation of 'The Day of Culloden', by John Roy Stuart, Colonel of the Edinburgh Regiment, and a rendition of extracts from it in Gaelic and English.
Chairman Michael Nevin said: "It has a particular resonance during the time of the Covid-19 as it talks of devastation and a silent landscape."
He said Stuart saw many of his men fall around him and the cause to which he dedicated his life destroyed within a single hour.
"It serves as a reminder that there was a time, very much worse than today, and that, no matter how dark the outlook may seem, life goes on and better times will come."
At Culloden, the Jacobite army, led by Prince Charles Edward Stuart (Bonnie Prince Charlie), fought a bloody battle with the government army, led by the Duke of Cumberland, to try to reclaim the thrones of Britain for a Stuart king.
Mr Nevin said the anniversary is a major commemoration and a very evocative occasion which should not be forgotten.
"It was right that it was cancelled this year, but we felt that if we could not hold a physical anniversary then we would hold a virtual one."
John Roy Stuart, a native of Strathspey, was a Bonnie Prince Charlie loyalist who reportedly was the inspiration for Alan Breck in Robert Louis Stevenson's classic novel Kidnapped and a cairn was erected in his honour at Boat of Garten.
A century and a half after John Roy saw his dreams crumble, the poet and author Andrew Lang visited the battlefield and recorded his experience in his poem 'Culloden'.
A rendition of the poem has also been uploaded by the 1745 Association on YouTube as part of the commemoration.