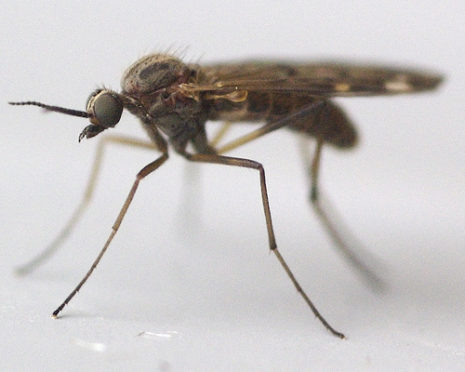 Bad news for humans – the midges have chosen this weekend to ease their lockdown, too.
And Scotland's infamous pest is set for a perfect swarm, says its top expert.
The official Scottish Midge Forecast is to re-launch this weekend – after lockdown meant few people were posting data.
"As we come out of lockdown so are the midges. The first big swarm is due this weekend into next week and the conditions are perfect for them," said Dr Alison Blackwell.
"There have been a few early ones about but the big hatch is always at the end of May, first week in June.
"We are re-launching the daily midge forecast and would appeal to people to send in their data."
Scotland's unpredictable weather in 2019 took the bite out of midges with numbers down by 15 percent compared to the previous year.
"Though there have been less people about outside during the pandemic it won't affect midge numbers – the conditions ahead look very good for them," said Dr Blackwell.
"For the forecast this time we will be also including information on ticks. There is already some evidence of ticks being about."
Numbers of midges were well down in last year's early season due to a quickly changing weather spell, well up in July and August and even a small third hatch in the autumn.
That was mixed news for the Scottish tourism industry which was previously estimated to lose about £286 million-a -year because of the voracious and swarming insects.
A previous study also found that many tourists said they would not return to Scotland at the same time of year because of midges.
"The numbers fall quickly in hot, dry spells. Midges only have a 2mm wingspan so they become dehydrated quickly. Some weeks the numbers being trapped can be down by about 50% compared to normal years because of hot, dry spells," said Dr Blackwell of Dundee-based APS Biocontrol Ltd, which runs the midge forecast.
"They like it warm and wet."
First generation midges mate and lay eggs that normally give rise to a second generation about six weeks later.
Dr Blackwell and her team previously calculated the total number of midges in the Highlands and Islands for the first time.
They estimated there were 139 billion midges in the Highlands and Islands.
Half of them were females – only the female midge bites – but not every one of them makes it to 'biting point.'