Re-opening tourism in the Highlands this summer has the feel of running up all 282 Munros without a pause and then adding on Everest for good measure.
Challenging, complex, unpredictable and underpinned by the fear it could all go horribly and fatally wrong.
In a pre-covid world, the Highlands received approximately four million overnight visitors a year, and another two million day visitors, including cruise ship passengers.
No-one doubts the importance of tourism to the region, but Covid-19 has radically changed the face of Highland hospitality.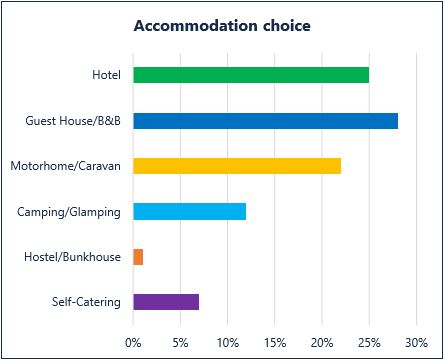 What's on offer won't be the same as before. Some businesses won't reopen this year, while others will, but with reduced capacity, social distancing and long lists of rules.
And the questions being asked include will people still come, will they still enjoy it with reduced amenities, and above all, will they still receive that world-famous Highland welcome?
Sutherland councillor Hugh Morrison says the re-opening will be challenging for everyone, trade and visitors alike.
He runs the Smoo Cave Hotel in Durness, on the popular North Coast 500 route.
"Here in Durness we feel July 15 is too early, and we've all agreed we won't open until we are ready, which could be the end of July," he said.
"Without doubt the traditional relaxed Highland welcome will have to change as people adjust to visitors from all parts of the UK potentially bringing the virus with them."
At Sango Sands Oasis campsite, bar and restaurant in Durness, owner James Keith says his head is in turmoil, what with the various dilemmas posed by coronavirus.
"We would only be able to open our self-contained units as we couldn't have people standing guard at the toilet blocks ready to clean after each use," he said.
"People are coming already, and if we don't cater for them they will wild-camp in lay-bys, at beaches or by cemeteries and leave their waste everywhere.
"We're damned if we do and damned if we don't."
NC500 visitors – more than 30,000 a year pre-Covid –  flock to marvel at the vast skies and landscapes of Caithness, but in that fragile county, businesses are still in shock at the proposed July 15 opening, says local councillor Struan Mackie.
"A lot of people had written the season off and are now on the back foot," he said.
"I've asked the Scottish Government to implement a complete ban on wild camping.
"You've no idea who the campers are, where they've been and what facilities they've used, which means that track and trace is useless."
Mr Mackie has also asked the Scottish Government to promote strongly the need for visitors to book ahead – a view echoed by tourism body SkyeConnect.
Project manager Alistair Danter said: "The reduction in capacity makes it more important than ever that people wishing to visit Skye – when they are allowed to do so – make sure they have secured a booking in advance.
"There is understandable concern on the island about the re-opening of tourism.
"This will be heightened if there is an influx of campervans with no bookings and nowhere to service their vehicles."
Trudy Morris, chief executive of Caithness Chamber of Commerce, said some businesses were prepared to re-open, but others were asking if it is worth it.
"As soon as you reopen there are costs, like bringing people off furlough," she said.
"You need money in the pipeline."
But whatever the fears and pressures caused by the situation, tourism must re-start, says David Richardson of the Federation of Small Businesses, Highlands and Islands.
"Tourism businesses recognise the season is rapidly passing and that, as soon as the Scottish Government gives the green light, they must get back to work before the season, and their businesses, die," he said.
Fear remains as tourists set eyes on return to north
Local fears that tourists might bring coronavirus to the Highlands sparked a wave of concern early in lockdown as visitors continued to head north.
Signs bearing the message 'Tourists go home' appeared along the NC500, in car parks  and at village entrances.
'Community isolation – please respect': Highland community erect signs to make possible visitors stop and think
Around thirty camper vans were turned away from the Nevis Range Centre in Fort William and the Scottish Government was moved to warn "Do not travel to the Highlands and islands".
Frazer Coupland, chief executive of Lochaber Chamber of Commerce, said elements of fear and hostility remain as businesses prepare for re-opening.
He said: "A cab driver stopped and took a video of some clearly non-local people going into a guest house and put it all over social media.
"What the cab driver did wasn't acceptable, whether the guest house or the guests were right or wrong that's not up for vigilantes in our community to decide.
"We haven't had the virus in Lochaber, but seeing the horrific experience of Skye, people know how easy it would be for it to arrive."
Mr Coupland and others are keen to ensure support and advice is there to ensure communities can reopen with confidence after lockdown – and offer their traditional warm welcome once more.
Highland MSP Kate Forbes said: "It is incumbent on local businesses and local residents to engage so that fears and concerns can be discussed and mitigated.
"Tourism is the lifeblood of the Highland economy and we said at the outset we would welcome visitors back when the time was right."
Trudy Morris, chief executive of Caithness Chamber of Commerce says confidence is the key to successful reopening.
"There is considerable angst in the community because there is low risk of Covid-19 at the moment.
"Confidence needs to be given to keep the Highlands open, friendly and welcoming."
That is essential to preserve the famous Highland welcome, says Caithness councillor Struan Mackie.
"Vigilante style hostility will do nothing but damage the hospitality sector and the hundreds of small businesses that rely on repeat customers and positive review for their livelihoods.
"For many visitors it is our Highland welcome and friendly hospitality that sets the Highlands apart, but the excellent strides to better our tourist offering can be easily undone.
"It is my opinion that at all costs we preserve the famous Highland welcome and ensure that this is not replaced by pitchforks and hostility."
David Richardson of FSB Highlands and Islands said no matter what happens everyone must respect the dangers coronavirus can pose.
"Businesses, already desperate to protect their staff, customers and wider communities from the virus, must follow distancing protocols to the letter," he said.
Highland campsite owners inundated with bookings and poised to re-open restricted service
In Sutherland, Stewart and Sharlene Moore run the Halladale Inn restaurant and bar and the North Coast Touring Park, with 18 touring pitches, 10 tent pitches and six glamping pods.
They've been kept busy during lockdown providing community meals for the vulnerable and offering drive-through takeaways.
Now they have set themselves a provisional target of re-opening on July 18, for pre-booking only, and say the pent-up demand is obvious.
Mr Moore said: "On the day the Scottish Government mentioned July 15 was a possible date for re-opening, we had 77 emails from people wanting to book."
The couple say they won't re-open the restaurant or bar, but have prepared the campsite to comply with social distancing.
Mr Moore said: "We have spent a lot of time making sure the pitches are well-mapped, numbered and clear.
"For the toilet blocks, which we invested heavily in last year, fortunately we have enough room for distancing so we will operate a tag system.
"If there isn't a tag hanging up outside the door, people have to wait until someone exits with a tag and then go in.
"We operate high standards of hygiene operation anyway and want to look after everyone's safety, including our own.
"Social distancing going down to one metre would help everyone."
The couple will open their waste disposal and water amenities to everyone but say, like the rest of the community, they fear many wild campers will be heading north.
"The government should look into that," Mr Moore said. "There are not a lot of campsites in the north.
"We are afraid that with so few public toilets and facilities, open wild camping will cause cause hygiene problems, as it was doing even before Covid.
"These are particularly unpleasant issues for the local community to deal with."