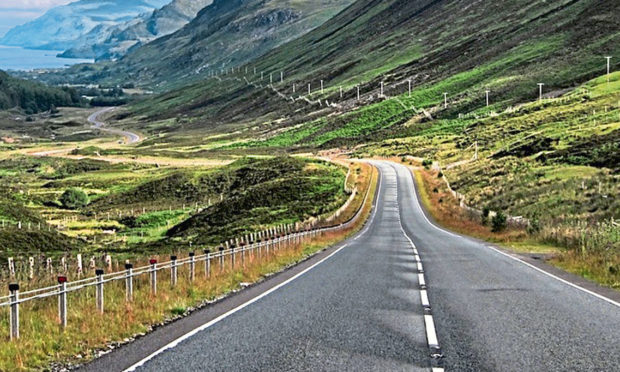 A campaign has been launched calling for a halt to the promotion of the North Coast 500 route amid growing concern about its effect on local communities.
The online petition has already been signed by nearly 500 people who want an urgent forum to be organised to discuss the future of the route.
Facebook pages have also been set up for people to voice complaints about the impact of the route and the need for improved infrastructure to cope with the influx of visitors.
The route has generated millions of pounds for the north's economy, but many communities have complained about lack of facilities for travellers and the behaviour of some irresponsible visitors.
Margaret Meek, from Kinlochbervie, who set up the NC500 The Land Weeps page, said: "Since NC500 the volume of traffic has increased year on year. Last year was intolerable to the point where if you live here you tended to not to leave your house.
"It's much worse this year with the easing of lockdown and the type of people coming – a lot of responsible people are staying home.
"In all of this, people who live here don't get mentioned and we have to put up with some outrageous behaviour. NC500 has transformed the area into a theme park.
"Maybe it's too late to close the door on NC500, but it would be really nice if its time had come and people stopped promoting it.
"It's not uncommon for businesses to be held responsible for damage they caused. It's clear the promotion has brought tens of thousands of people here and they need to contribute to doing something about the problems."
Alex Dickson, from Fortrose, set up the petition which says consultation needs to include measures to manage the increased tourist numbers, the economic and environmental impact and what is the long term plan for how infrastructure will be maintained and improved.
"Following a consultation, perhaps the question could be asked: Do you want the NC500 ltd to continue to promote and advertise the scenic route?"
NC500 said investment and maintenance of public infrastructure in the north Highlands, including toilets, litter bins and waste disposal is the responsibility of Highland Council and Scottish Government.
Tom Campbell, executive chair of NC500 Ltd, said: "NC500 is one of the biggest tourism success stories Scotland had seen for years, an incredibly effective branding and marketing initiative which has brought an unprecedented visitor boom to some of the nation's most remote areas of natural beauty."
He added that five years after launching, it has put "small rural communities, winding single-track roads, once almost deserted campsites, restaurants and hotels on the tourist map almost all year round."
Mr Campbell claimed that last year, the route boosted the economy by an estimated £22.89 million and created around 179 full-time jobs.
NC500 Ltd encourages visitors to observe advice for safe driving on country and single-track roads, overnight parking, access rights and waste disposal and to support local businesses.
"Whether people are travelling by car, bicycle, motorcycle, campervan, motorhome or foot, it is their responsibility to dispose of their waste responsibly," Mr Campbell said. "We encourage people to respect local communities and not to leave waste for others to find or remove.
"NC500 works proactively with Highland Council, Highlands and Islands Enterprise, Police Scotland and Visit Scotland, all of whom engage with local communities. NC500 supports this vital tourism economy and the businesses which are part of the community. These businesses employ neighbours, friends and young people, who are facing their most significant employment challenge in generations. All agencies and the government we must do all that we can to support them."