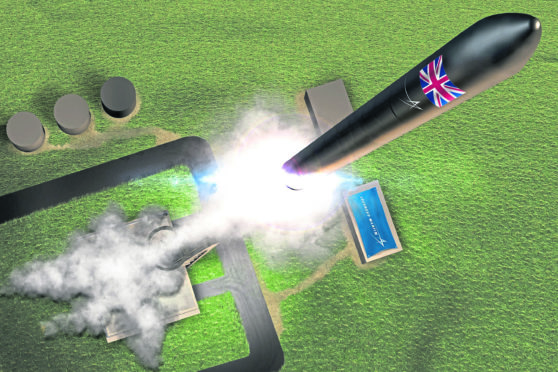 Plans for a £17.3 million spaceport in the Highlands have rocketed past another major milestone after winning approval from the Scottish Government.
The Highlands and Islands Enterprise (HIE) project at A'Mhoine, near Tongue in Sutherland, is expected to create 200 jobs as satellites are launched from the station.
After being approved by Highland councillors in June, the proposal went to the Scottish Government, which has now decided not to call it in for a public inquiry.
The decision is a massive setback for campaigners opposed to the project, including billionaire local landowner Anders Povlsen's company – which described the project as "deeply damaging".
His firm Wild Land Ltd – which owns estates near the proposed site – had called on an inquiry and for the government to consider it alongside Scotland's two other planned rocket sites in Shetland and the Outer Hebrides.
A spokesman said they were unable to comment on the decision at the moment, but had previously threatened legal action.
A Scottish Government spokesman said: "Scottish ministers have considered the notified spaceport proposal at Tongue and concluded there are no issues requiring a decision to be taken at a national level.
"This is a new and unique development type for Scotland.
"It is considered that Highland Council have taken all relevant matters into account in their deliberations including the challenges in terms of access, landscape and visual impact and environmental impacts where there are residual significant effects.
"We are satisfied that, subject to the mitigation required by conditions, the proposal accords with the development plan and is acceptable in terms of all other material considerations."
A spokesman for Highlands and Islands Enterprise said:  "Naturally, we're very pleased with the ministers' decision which is a real boost for this project and great news for our region.
"Satellite launch is a central part of our ambitions for the Highlands and Islands to benefit substantially from the growth of the UK space sector.
"With up to 12 launches a year, Space Hub Sutherland is expected to create around 40 high quality jobs on site, and underpin over 200 more in the wider region, including manufacturing and supply chain opportunities.
"There is still a great deal of work to do, including ensuring that we put in place robust measures to protect the natural environment and wildlife, in full compliance with planning conditions.
"However, this announcement means that Space Hub Sutherland has achieved a major milestone towards our ambition for a first launch possibly as soon as late 2022."
HIE would contribute £9.8m, the Nuclear Decommissioning Authority £5m and the UK Space Agency £2.5m towards the project.