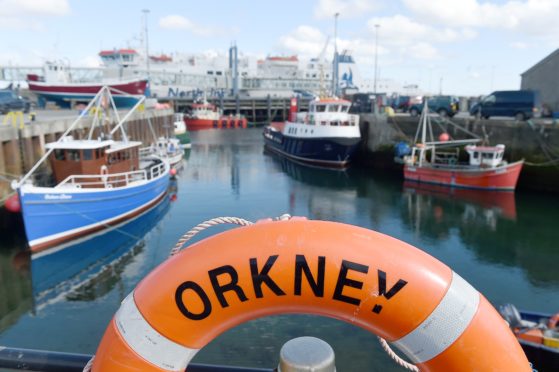 A fishing boat has been identified as the cause of an outbreak of Covid-19 in Orkney.
The head of NHS Orkney told the Press and Journal that five people have now tested positive.
Chief executive Michael Dickson said he was concerned the virus had been "spreading rapidly" across the islands, but now they were able to trace where it began and contact tracers were able to work quickly on self-isolating those who may be affected.
Mr Dickson said: "We have five positive cases from a fishing vessel and more than nine contacts. Our understanding is they travelled from mainland Scotland, from Peterhead, before arriving in Orkney."
An Instant Management Team meeting took place yesterday afternoon to discuss the latest outbreak.
First Minister Nicola Sturgeon said in a briefing yesterday that clusters, such as those in Aberdeen and now Orkney and Glasgow area, were very likely to occur.
Mr Dickson: "NHS Orkney has put in place support for those individuals on the fishing vessel and those affect beyond.
"We are responding to a significant Covid public health issue and we are profoundly concerned that the virus is spreading rapidly across our community.
"We believe there is a real risk to the people of Orkney, including those on the remote isles, and urge them to take care.
"Several individuals have developed Covid symptoms and then travelled to their homes across the isles and to mainland Scotland.
"I am asking that anyone in Orkney who shows symptoms of Covid to immediately self-isolate for at least 10 days and seek a test.
"NHS Orkney is taking this matter extremely seriously and working with partners, which include several NHS mainland boards, port authorities, ferry operators, environmental health and the Orkney Island Council.
"Our public health tracing team will be working to find as many contacts of these positive cases as possible. "
He urged anyone contacted by the team to self-isolate for 14 days and get tested if symptoms develop.
He added: "While Orkney's Covid figures did not change today, we are aware of a significant number of symptomatic cases all of whom have been tested.
"Some of these figures will be attributed to mainland board figures, this happens when a patient's home address is registered off-island. "
Orkney MSP Liam McArthur said: "This spike in new cases is deeply worrying. It is also a timely reminder that this virus remains a real threat and that we all have a responsibility to act with the utmost care to keep ourselves and our community safe."
He echoed Mr Dickson's plea for anyone with symptoms to get tested, adding: "I will also be speaking to the health secretary later today to establish what further action is being considered to contain this outbreak and minimise the risk to the public."
Highlands and Islands MSP Jamie Halcro Johnston said: "This is obviously a deeply concerning development.
"Orkney has been relatively fortunate that Covid-19 cases have been low, and so these new cases will be worrying for folk in the islands.
"It is vital that, if necessary, NHS Orkney, the local council and other agencies have the resources they need to deal with this outbreak, particularly where there is an increased need to protect those in Orkney who are most vulnerable to this virus.
"It is also important that people continue to be vigilant, follow the official guidance and, where required, help NHS Orkney in identifying cases and containing the virus."