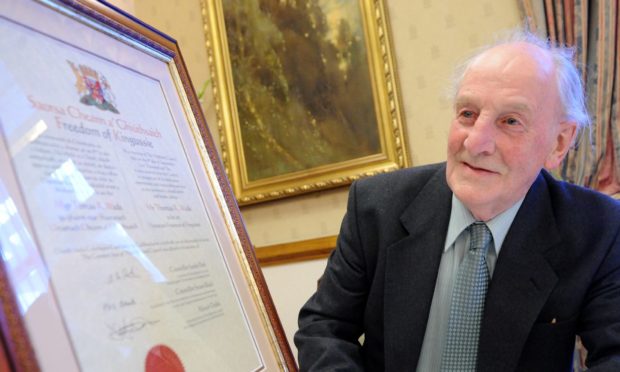 The death of Tom Wade has been described as the "end of an era" for Kingussie.
Mr Wade had a long career in local government, with his services to community life culminating in Highland Council bestowing upon him the Freedom of Kingussie in 2010.
He was born in 1922 in the north town, part of a family of five.
On leaving school, he was employed in the finance department of a civil engineering firm, before leaving to join the RAF in 1942.
He received the Distinguished Flying Medal after a tour with Bomber Command, and went on to serve in India.
After the war he married and took over the family business, Wade's Café in Kingussie, before running the local paper shop until his retirement in 1987.
Mr Wade's career in local government began when he was elected to Kingussie Town Council in 1964 and subsequently became convener of the town council lighting committee.
He became Provost of Kingussie and Justice of the Peace in 1968 and held office until local government reorganisation in 1974.
Following the elections, Mr Wade served on the Badenoch and Strathspey District Council and was appointed chairman of the licensing board and the District Court Justices.
Following the 1992 district council elections, he was appointed vice-chairman of the district council and the district sports council and reappointed chairman of the licensing board.
He also represented the district council on the planning committee, Voluntary Action in Badenoch and Strathspey, housing and environmental services committees and on the Convention of Scottish Local Authorities.
When Highland Council was created in 1995 Mr Wade sat on the culture and leisure, social services and budget group committees as well as continuing his roles on the licensing board and District Court Justices.
He retired from Highland Council in 1999 and subsequently joined Kingussie and Vicinity Community Council, serving for many years as treasurer.
Council convener Bill Lobban said: "Tom lived his working and retired years in service to the community and his passing is without doubt the end of an era, an era where he played an extraordinary part in the development of Kingussie.
"Few, if any, have given so much to their local community as Tom Wade, a community which honoured him by making their ex-provost a Freeman of the town in 2010.
"His family and friends will be justifiably proud of his achievements and will sadly mourn his passing."