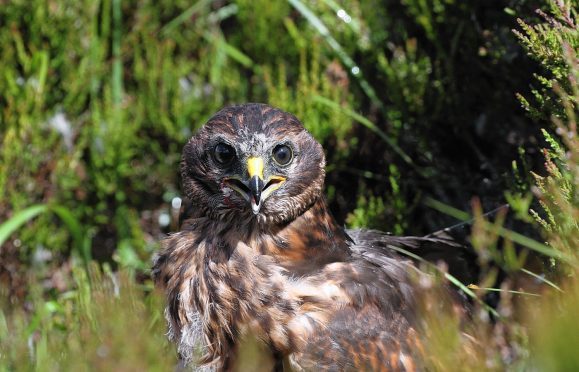 The boss of the Cairngorm National Park has branded the death of a young hen harrier "a disgrace".
The male raptor, which had been named Lad, is believed to have been shot and was found on land near Newtonmore within the park in September last year.
RSPB Scotland made the incident public earlier this week and said the post mortem found he suffered injuries "which could be explained by a shotgun pellet passing straight through the soft tissue of the neck".
He was also found with damage to his wing which was "consistent" with a shooting.
Grant Moir, chief executive of the Cairngorms National Park Authority said: "It appears likely from the post-mortem carried out by Scotland's Rural College that a tagged hen harrier has been shot in the national park.
"It is a disgrace that there are still people who think shooting a hen harrier is acceptable in the 21st century.
"Millions of people visit this incredible park every year with 12% of visitors coming here for wildlife watching earning millions for the local economy. 43% of people in the park are employed in tourism and every illegal raptor crime adversely affects this area and Scotland's reputation.
"The national park authority will work with all our partners to try and ensure that raptor crime is a thing of the past and that populations and ranges recover in the park."
A police investigation is ongoing, involving RSPB Scotland investigators and landowners.
Lad died just weeks after fledging from a nest on an estate owned by Wildland Ltd within the park.
His carcass was found on a different estate a short distance.
Douglas McAdam, chief executive of Scottish Land & Estates, said: "We are saddened to hear about the death of a satellite tagged hen harrier so soon after fledging from one of our member estates, Wildland Ltd., in September 2015.
"We have not seen any detail on this case and from the information available the cause of death has not been established.
"This undoubtedly raises unhelpful speculation about what has caused the injuries sustained by the bird and hence whether a crime has been committed or not.
"Clarity on this is vital. We are therefore appealing for anyone who can shed any more light on this case to contact Police Scotland on 101 at the earliest opportunity."