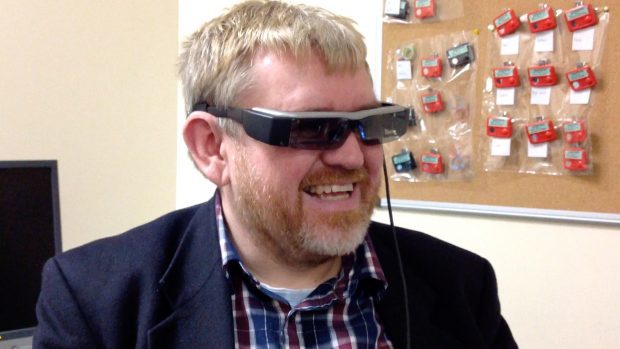 Groundbreaking new "smart glasses" could be developed in the Highlands to help doctors perform life-saving surgery.
NHS Highland has revealed it is working with hi-tech companies to create the glasses – and believe it could attract worldwide interest and "significant" revenues for the health board.
It means the region is the first place in Europe to seriously develop the technology for medical use.
The smart glasses are effectively a wearable computer, they connect to the internet and use
various self-contained mobile applications.
They project images onto the lens while allowing the user to see as normal.
They glasses also have a high-resolution camera as well as voice recognition software which turns speech into text.
NHS Highland has set up a board of medics to consider the potential uses for the glasses, and is keen to hear from interested colleagues, academics and businesses.
Alan Whiteside, innovation consultant with NHS Highland's research, development and innovation department, believes that the glasses could be of particular interest to surgeons and A&E staff.
He said: "It's early days yet but several clinicians have already indicated that they are very interested in the glasses and have suggested some possible applications.
"The plan is to turn these ideas into reality and take it from there. If things go as we hope, the smart glasses could help to put NHS Highland at the forefront internationally of a technology with vast potential."
NHS Highland is working on the glasses' development with Summit Wearable Solutions, an Inverness-based company which is a joint venture with a Taiwanese electronics business called Jorjin Technologies.
Mr Whiteside recently travelled to Taiwan and China with Summit chief executive Chris Bryson to meet his colleagues and their collaborators and to discuss how NHS Highland can help to develop applications for the smart glasses.
Mr Bryson, a vice president of Jorjin, said: "NHS Highland's interest is hugely important for us.
"The idea is that we supply the platform – the glasses themselves, which will use Jorjin's minimising technology – and NHS Highland will help us to develop the applications for them."
Mr Whiteside added: "If this is commercially successful we would have intellectual property rights and it's possible that this project could ultimately yield a significant income for us.
"This is the first place in Europe seriously developing digital eyewear for healthcare. I have no doubt that it could put help to NHS Highland on the map as a centre of technological innovation."