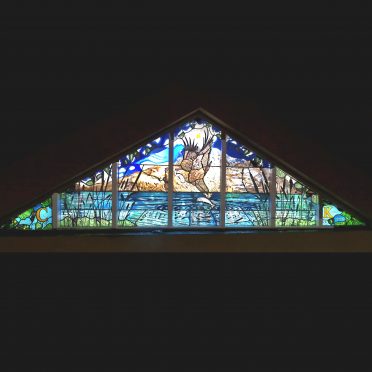 The artist who has designed a colourful stained glass window in memory of Charles Kennedy has provided a first glimpse of the impressive work of art.
The former leader of the Liberal Democrat party and MP for Ross, Skye and Lochaber died suddenly at his Fort William home aged just 55 on June 1 last year.
And the window, which has been installed above the door at the popular politician's parish church in Lochaber, is to be officially unveiled at a special service tomorrow (Wednesday) – on the first anniversary of his death.
Parish priest Father Roddy McAuley previously said it would be kept under wraps until the unveiling service at St John's Church, Caol, which starts at 7pm tomorrow.
However, Pinkie Maclure, of Bankfoot-based Artisan Stained Glass, yesterday posted photographs of the installation on social media and said that she was delighted to have been given the commission.
Ms Maclure said: "I thought it was a lovely idea and it was a great honour to be asked to make it."
The window has been constructed from hand-blown glass that was made to order in Germany and includes an eagle – the symbol of John the Evangelist – catching a salmon, with Ben Nevis in the background.
Ms Maclure said: "I was told to include the eagle and Ben Nevis, but they left the rest up to me.
"I asked a bit more about his family and discovered his father used to play the fiddle in the church so I decided it would be nice to include some music as well as a fiddle.
"I also remembered that Charles Kennedy had been on Desert Island Discs so I looked up his choice of record, which was The Cameron Highlanders, and put the notation for that at the bottom in the water."
She said she also included his name, the dates of his birth and death, his initials and bullrushes and violets, which are symbols of humility.
The politician's brother Ian Kennedy, of Lochyside, has said he is planning to attend the service, but his brother's ex-wife Sarah Gurling and their 11-year-old son Donald would be unable to do so.
However, he stressed that they had both been involved in the stained glass window project, which also commemorates Charles and Ian Kennedy's parents, Ian and Mary, who provided the music for the vigil mass at the church for more than 40 years.
Father McAuley could not be contacted for comment last night.