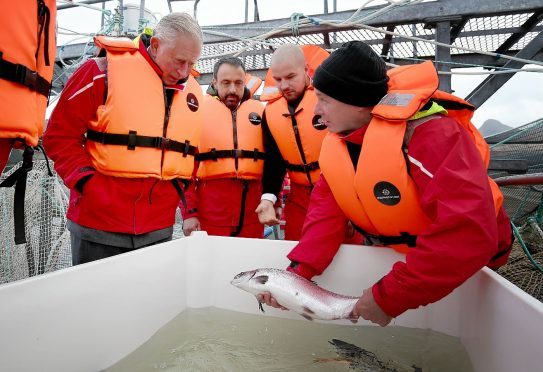 Prince Charles visited a leading salmon farm in the Highlands yesterday to observe work on its "cleaner fish" project.
The Duke of Rothesay, who has long championed sustainable fish farming, visited the Marine Harvest site in Kinlochleven to see how it operates.
It was his latest stop on a tour of the north and north-east, having officially opened his own restaurant and gift shop in Royal Deeside on Tuesday.
The duke spoke to managers and workers at the fish farm on Loch Leven as he took a boat ride out to tour the fish pens.
Afterwards, he went on to attend a meeting hosted by his International Sustainability Unit in the Ballachulish Hotel.
Steve Bracken, business support manager for Marine Harvest Scotland, was delighted by the visit and said he hoped the duke had been impressed with the project.
He said: "We are delighted that His Royal Highness has come to look at our cleaner fish project because we have had such success in using these smaller fish to get rid of sea lice.
"This is a really welcomed opportunity for Prince Charles to come and visit and I hope he will be impressed by our welfare standards."
Explaining the process, Mr Bracken added: "We use commonly found fish, such as wrasse and lumpfish, which nibble the lice from the salmon as sea lice is a huge problem for the industry.
'We want to move away from medicinal methods of removing sea lice, and we have also been working with new technology to get rid of the sea lice using high pressure water jets or warm water."
Prince Charles spoke to Marine Harvest veterinarian David Cockerill and Ronnie Hawkins, the cleaner fish manager, as he toured the fish pens.
Mr Cockerill said: "We have 40,000 to 60,000 salmon in each cage here. We try to make all our sites sustainable in terms of feed and getting rid of parasites.
"This non-medicinal way of managing sea lice is a natural solution to problems facing the salmon industry."
The Loch Leven site started using wrasse and lumpfish in 2012, and is the first place in the UK to be approved by the international Aquaculture Stewardship Council (ASC), which certifies and labels responsibly farmed seafood for consumers.
Mr Cockerill added: "We feel that we understand the spawning process of the wrasse and lumpfish, and now the goal is to be able to use cleaner fish on all our farms.
"About three-quarters of our cleaner fish are farmed at several hatcheries across the UK.
"We think by 2018 we will have sprouted enough for our farms, and by 2020, 100% of our cleaner fish will be farmed as opposed to caught wild.
"I have worked as the vet here for 10 years and non-medicinal methods of getting rid of sea lice is the way forward."
The duke is president of The Prince's International Sustainability Unit.
At his later meeting with the group, he heard from industry and policy experts about the programmes being developed to help fisheries to become more sustainable.
Marine Harvest is the world's biggest Atlantic salmon producer, and salmon has been farmed in Loch Leven since 1975. It was one of the first salmon farming sites in Scotland.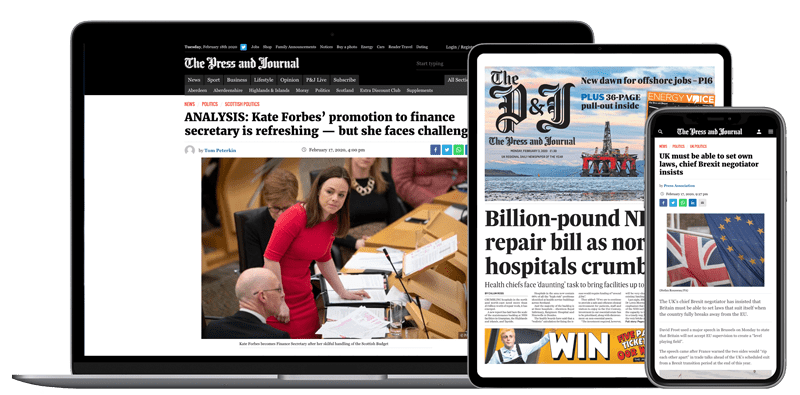 Help support quality local journalism … become a digital subscriber to The Press and Journal
For as little as £5.99 a month you can access all of our content, including Premium articles.
Subscribe