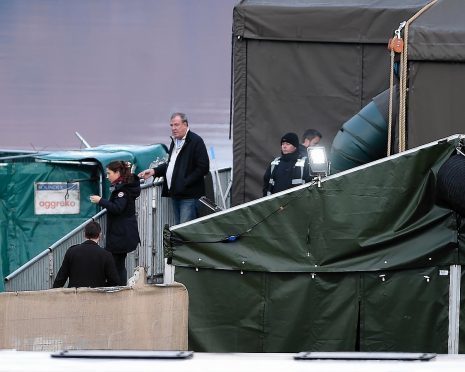 An episode of Jeremy Clarkson's new online car programme showcasing Loch Ness will be streamed online later in the month.
Amazon has confirmed The Grand Tour filmed in the Highlands will go online on Friday, January 20.
The show, presented by Clarkson and his sidekicks Richard Hammond and James May, caused a stir last month when their giant studio tent was put up at the southern end of the world famous loch.
The trio spent several days filming near Fort Augustus for the popular online show.
The shoot was largely within the tent, which tours the world with the crew, serving as a mobile studio.
The episode – entitled "Italian Lessons" – will feature the three presenters embarking on a challenge involving three used sports cars.
An Amazon description of the show said: "This week the Grand Tour tent is on the shores of Loch Ness in Scotland, from where Jeremy Clarkson, Richard Hammond and James May introduce their experiences of buying used Maseratis with their own money and then using them to tour the drizzle-flecked landscapes of the north of France.
"Along the way, they encounter worrying noises, unusual electronics, a small engine fire, and the cruel delight of watching James trying to drive with a broken arm."
The programme will also feature Hammond testing a Fiat Abarth 124 Spider at the Grand Tour's test track.
The show's decision to film at Loch Ness was hailed by local business leaders as a major boost for the local economy, with The Grand Tour watched all around the world.
The Highlands follow in the footsteps of California, Johannesburg, Rotterdam and Whitby in Yorkshire as settings for the show.
The location was praised by Clarkson during filming who describing the view from the tent as "mesmerising" on social media.
One of the stunts filmed while the programme was in the Highlands involved Olympic cycling hero Sir Chris Hoy visiting the area.
The Grand Tour features a regular sequence where a celebrity due to be interviewed is killed in outlandish ways while travelling to the tent.
The film crew shot a sequence where a lookalike of the famous cyclist rowed across the loch – before a staged explosion tipped the star into the loch.