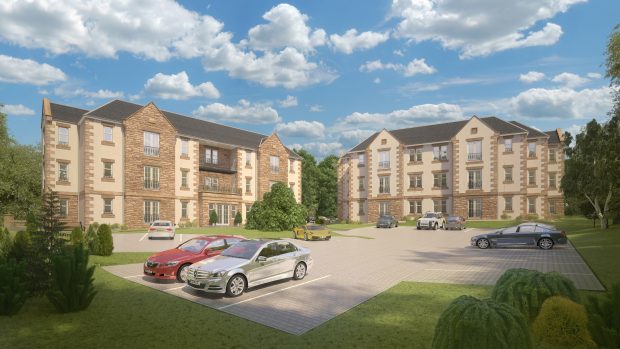 New plans have been submitted for a luxury apartment development next to a world famous golf course.
Kirkwood Homes has now teamed up with Dornoch Developments Ltd to build 24 apartments and four affordable cottages on the site next to the Royal Golf Hotel in Dornoch.
This is reduced from the 33 apartments previously proposed by Dornoch Developments Ltd – a consortium of north businessmen who own the hotel.
In 2011, Dornoch Developments Ltd had plans approved for a 37-apartment complex but amended their proposals to reduce one of the three blocks from four-storey to three.
Now, the developers are teaming up with Inverurie-based house builder Kirkwood Homes to build four, semi-detached cottages alongside two blocks of two bedroom apartments.
Construction would start in Spring if planning permission is given and apartments will be available to buy and buy-to-let.
Colin Crombie, managing director at Kirkwood Homes, said: "Dornoch is one of the most unique, beautiful and historic towns in Scotland. Last year we launched our first development in the Highland region and this application pays testament to our long-term commitment to this area as we continue to expand our offering across Scotland.
"If approved, these exclusive apartments would be ideal for those looking to move to one of Scotland's hidden gems and for keen golfers that not only have some of the world's best golf courses in the vicinity, but would be right on the doorstep of Royal Dornoch Golf Club."
The site next to the Royal Golf Hotel has been subject to a decade of planning applications which have never come to fruition.
Planning permission was first approved for the site in 2007 to alter the hotel itself to create a spa, nine bedroom hotel wing and 11 holiday apartments- but this fell through.
Another application was 37 holiday apartments was submitted in 2010 but this was withdrawn, and subsequent application with revised layout was approved in 2011.
In 2013 an amended proposal for 33 apartments was approved but this stalled, likely due to the economic climate.
A spokeswoman for Kirkwood Homes said the two bedroom apartments will be finished to the highest standards, complete with en-suite, bathroom, kitchen, utility and living/dining areas and constructed to the highest levels of finish and specification.
The planning application was received by Highland Council on January 13.