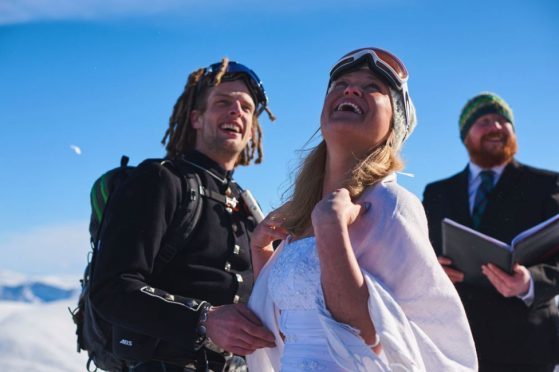 It was a white wedding in more ways than one for a Highland couple who tied the knot at a ski resort before sliding off down a run in their wedding attire.
Bridget and Jonathan Reid, from Moy near Tomatin, got married at Nevis Range, near Fort William, on Friday.
Both aged 36, Bridget is depute head at Alness Academy and Jonathan runs his own company.
Adventure photographer Hamish Frost took their wedding snaps.
The couple got married at the top of Easy Gully in a ceremony officiated by Halde Pottinger from the Humanist Society of Scotland.
Bridget said: "Our first date was skiing at Aviemore. Jonathan decided to take me off piste, I was an experienced skier but not at off piste.
"He triggered an avalanche, I think they only reason he asked me to dinner afterwards, because he felt guilty for nearly killing me. He managed to ski out of it. I stayed at the top of the hill and went down once it was safe."
She continued: "My parents were farmers. They both died suddenly, my mum had breast cancer and died in 2014 and my dad took a heart attack in 2015.
"I had always imaged I would get married at their home and it just seemed it would be easier if we did something a little bit different.
"Jonathan is pretty wedding-phobic so I though if we incorporated it with something he loves doing he would be a bit more into it.
"It was beautiful sunshine, we couldn't have asked for more."
The couple said their vows in full Highland dress while standing on skis, before skiing down easy gully, followed by some of their guests.
The second part of the ceremony was held at the bottom of the hill so that people who couldn't ski could take part, before a more conventional wedding dance took place in the Snow Goose restaurant.
They thanked the staff of Nevis Range for "a fabulous job making our day possible", and for helping in throwing "a hell of a good party" in the evening.