A new £1.4million visitor centre in the Highlands has risen from the ashes and is a step closer to opening its doors.
The previous centre at the popular Falls of Shin near Lairg – once branded "the Harrods of the North" – was destroyed by fire back in 2013.
This week, the external construction work on the new community-owed facility was completed and it will be ready to welcome visitors again in May.
Designed by Sutherland-based CH Architecture, the centre will employ around seven people and will include a cafe, retail space and toilets. There will also be a central grass plaza which will be used as a venue for events and stands, giving local producers an opportunity to showcase their products to visitors.
The site has also been redesigned to make car parking more discreet and landscaping work together with improved signage is aimed at encouraging visitors to use the woodland walks.
Work is also being carried out on the path to the falls to provide a more accessible route as the previous one was steep, narrow and uneven.
Once complete, native trees will also be replanted by Forestry Commission Scotland.
The site has now been handed over to the Kyle of Sutherland Development Trust by the contractors William Gray Construction.
Valerie Houston, the trust's implementation manager on the Falls of Shin community project, said: "We are delighted with the progress and really excited now about getting the interior of the building fitted out.
"We are thrilled with everything so far and the level of workmanship has been excellent. We've had great support from the local community and I'd like to say a big thanks to everyone.
"The official opening will be on Saturday, May 13, and we are working on a plan for the event at the moment. But there's one thing for sure, it will be really enjoyable."
The trust, which was launched in 2011, aims to achieve long-term sustainable benefits for the local community.
It bought the site in 2016 from Egyptian business magnate, Mohamed Al-Fayed, who also used to own Harrods, the world famous department store in London.
The new visitor attraction has been funded through Big Lottery Funding, Highlands and Islands Enterprise, Highland Council and Lairg, Creich and Ardgay Community Council from its SSE Achany Wind Farm Community Fund.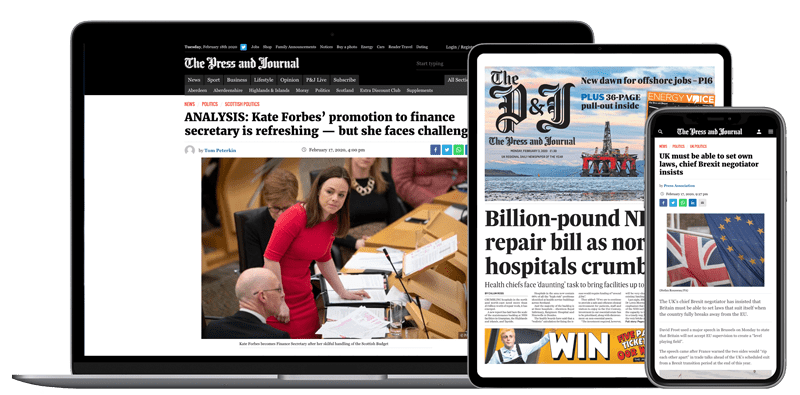 Help support quality local journalism … become a digital subscriber to The Press and Journal
For as little as £5.99 a month you can access all of our content, including Premium articles.
Subscribe