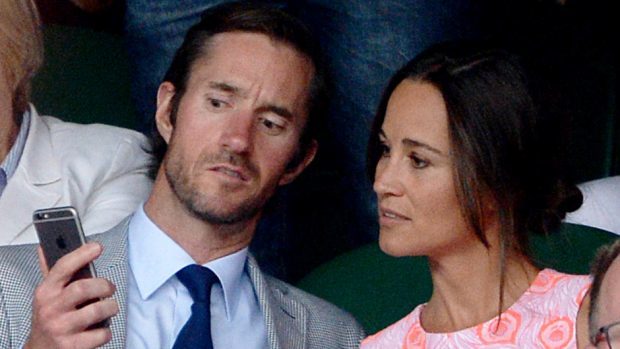 Pippa Middleton is believed to be planning a Highland honeymoon.
Friends say the 33-year-old party planner and James Matthews, 41, will escape to his family estate in Inverness-shire after they exchange vows on May 20.
The luxury shooting lodge on the 10,000acre Glen Affric Estate is booked for a full week before and after the wedding, affording the couple complete privacy.
Miss Middleton, who studied at Edinburgh University, was spotted skiing at CairnGorm Mountain near Aviemore last year and regularly takes part in the Highland Cross endurance race.
A friend said: 'Pippa has been on lots of visits to Scotland – it is like a second home to her.
'She loves the outdoors and sense of freedom. She also has lots of friends in the Highlands.
'She is quite a country girl and loves the Scottish countryside. It will be part of their honeymoon; it gives them peace, space, privacy and some of the best scenery in the world. What more could you want?
'James and Pippa also have a couple of dogs between them, so Glen Affric is the perfect getaway to wind down with a few long walks.'
After some rest and relaxation north of the Border, the couple are expected to jet off to the Matthews family's hotel resort on the Caribbean island of St Barts.
The couple first met there when the Middleton family were on holiday almost 11 years ago.
According to his closest friends, Mr Matthews says he knew Pippa was 'the one' from the moment she set foot on the island and confidently introduced herself to him.
But with an eight-year-age gap and a number of different partners between them, Mr Matthews had to bide his time for over a decade before finally proposing to Pippa in the Lake District last July.
Following her marriage, the new Mrs Matthews will be in line for an aristocratic title, like her older sister the Duchess of Cambridge, and will one day become Lady Glen Affric.
Mr Matthews, a super-rich hedge fund manager, is the son of David Matthews, the Laird of Glen Affric. He will inherit the title on his father's death, until which time Pippa will be able to use the courtesy title of Mrs Matthews of Glen Affric the Younger, bestowed upon her as the heir's wife.
The aristocratic title has a long and rich history and comes with its own red and green tartan, which Mr Matthews could opt to wear at what is expected to be a star-studded wedding.
The high-profile couple are to wed at St Mark's Church near Bucklebury in Berkshire on May 20. Two weeks ago, we reported that the Duke and Duchess of Cambridge had attended a pre-wedding summit at the £17 million West London home Pippa shares with her husband-to-be.
It has been rumoured that Pippa is enforcing a strict 'no ring, no bring' rule to restrict numbers, meaning guests who are not engaged or married – such as Prince Harry – will not be allowed a 'plus one'.