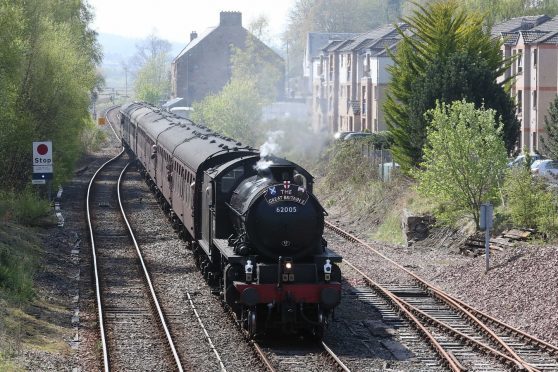 A recreation of a wartime train which carried troops the length of Great Britain has steamed through the Highlands.
The special journey was organised for the bank holiday weekend to mark the centenary of the "Jellicoe Express", the longest train journeys ever undertaken in the country.
The journey recreates the daily direct service between London's Euston Station and Thurso, which was first established in World War I.
The trains were put to work to serve the Far North because the Royal Navy's Grand Fleet was based just over the Pentland Firth in Scapa Flow, requiring personnel to be moved from London and across the country.
Rail was the only transport at that time capable of moving large numbers around the country, as the only other option, by sea, was slower, not as direct and also risky given the threat from German U-boats.
The trains would leave Euston in summer at 6pm and arrived in Thurso the following day at 3.30pm, 717 miles later.
It is credited with carrying 475,000 people between February 15, 1917, and April 30, 1919, as well as carrying the fleet's mail.
It became known as the Jellicoe Express after Admiral Sir John Jellicoe, the commander of the Grand Fleet who led the British forces at the Battle of Jutland in June 1916.
By the time the naval train service began he had been appointed First Sea Lord, a post he held from November 1916 until January 1918.
The recreation was run by the Railway Touring Company and involved special plaques being unveiled at five stations in the presence of Admiral Jellicoe's grandson, also John.
Yesterday a plaque was unveiled at Inverness station, followed shortly afterwards by one at Dingwall.
Both plaques were unveiled by the Lord Lieutenant Janet Bowen.
The Railway Touring Company's operations manager Kelly Osborne said: "We are delighted to help commemorate such an important anniversary in the history of Britain's railways."
The ScotRail Alliance's honorary rail ambassador John Yellowlees added: "We are proud to have these plaques at our stations in recognition of the vital role played by the Jellicoe Express."