A lonely osprey, who kept a vigil in his Highland nest waiting for his mate to arrive, has had his patience rewarded in duplicate.
Nicknamed 'Lonesome Louis' by Woodland Trust Scotland staff, the bird kept a solitary 18-day vigil for his mate of over 10 years to fly back from Africa.
His nest is on top of a pine tree in the ancient woodland at Loch Arkaig Forest and both Louis, as well as the staff, were beginning to give up hope that she would return.
But a female osprey has now flown into the nest and Louis is delighted – however, his mate has some competition.
During Louis' long, lonely wait, two other female birds have been giving him the glad eye and have even started to fight over him.
Woodland Trust Scotland spokesman, George Anderson, said: "A female osprey has turned up and Louis is obviously very pleased. But in addition, a further two female birds have also been trying to catch his eye.
"Louis is now lonesome no more and it is such a relief because we thought time was running out for him.
"The eggs will hopefully be laid in the next week or two and, all being well, the chicks should hatch in June."
A live video feed from the nest site first revealed poor Louis' plight as other osprey pairs had arrived back from Africa and were settling down to mate.
Mr Anderson said: "Birds further south had laid eggs already, but poor Louis was still on his lonesome. It was heartbreaking to watch. He made a start by putting some moss and grass in the nest and had fought off some crows, but most of the time he was just looking out for his mate.
"We don't normally give the birds in the forest a name, but we felt sorry for this one as he looked so miserable in the nest cam pictures, so Lonesome Louis was the obvious choice. I don't know who was more worried about his mate turning up, Louis or us."
But while Louis and his female osprey feather their nest, there is a twist to this tale as Mr Anderson is not certain if the new arrival is Louis' original mate.
"We are not sure yet if any of the females have used this nest before. One of them is tagged so we know that she was reared in Aberdeenshire in 2013. The other two though – it's very difficult to say."
To see pictures from the nest live, log on to www.woodlandtrust.org.uk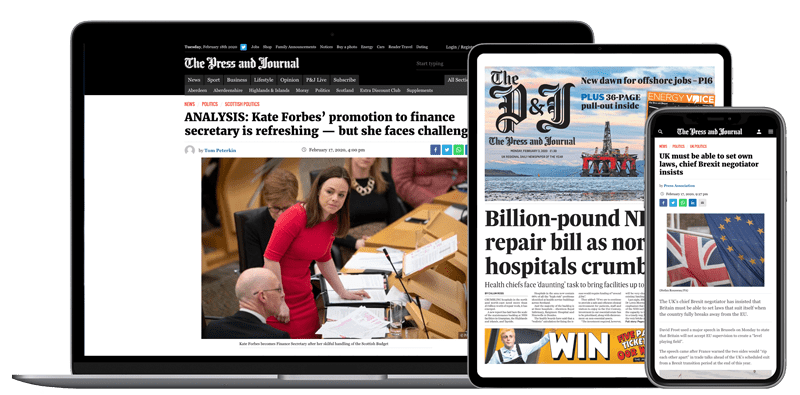 Help support quality local journalism … become a digital subscriber to The Press and Journal
For as little as £5.99 a month you can access all of our content, including Premium articles.
Subscribe