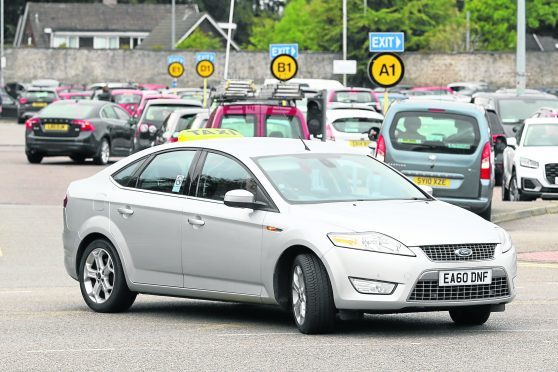 A row has erupted amid claims commuters and holidaymakers are using Raigmore Hospital's car park as a free park-and-ride facility.
Taxi drivers have reported picking up increasing numbers of customers at the hospital and taking them to Inverness Airport – saving almost £100 in parking charges if they are going for a fortnight's holiday.
The Scottish Government abolished parking charges at Raigmore – along with the payments at Dr Gray's in Elgin and Aberdeen and Perth royal infirmaries – in 2008.
But it is often difficult to find a space at Raigmore, where signs clearly state the car park is for "patients, visitors and staff only".
Current charges at Inverness Airport range from £11 per day to £47.60 for a week and £95.20 for a fortnight.
Lynn Gilchrist, assistant manager of Inverness City Taxis, said: "I'm shocked by the way people are abusing the system, it's disgusting. This has been going on since they stopped charging for the car park.
"People have been abusing it, and not just for holiday parking. A lot of (non-hospital) workers use it. They park their car there and jump on a bus into town as it's so expensive to park in the city car parks.
"The drivers report these people had been away on two weeks' holiday and abusing the system, instead paying a £30 return to the airport for a taxi."
She added that her drivers would, in future, report parking offenders to the hospital's security staff.
Retired taxi driver Evan Jessiman added: "It's hard to say how many people do this but I've personal experience of this," he said. "I've actually given a hard time to two people for doing it."
City councillor Duncan MacPherson has monitored the situation closely in recent weeks. He said: "Those most acutely affected by the behaviour of these selfish car owners include hard working hospital staff, plus the elderly and infirm and disabled patients, in-patients and outpatients, and any visiting family members or friends visiting a patient."
Labour MSP David Stewart, who has pressed for park-and-ride facilities on the fringes of the city, said: "It's very stressful particularly for elderly in-patients or those with a disability. I'll be raising this with NHS Highland."
A spokeswoman for NHS Highland said: "We'd ask that if anyone knows of this happening they point it out to us at the time, allowing us to identify the car and take appropriate action."
The health board recently secured planning permission to create two overspill carpark extensions on open ground areas on the hospital site which will add 250 spaces.
A spokeswoman for the Scottish Government said: "While it's the responsibility of NHS Highland to appropriately enforce the hospital's car parking policy, it is also important that people respect that these spaces are for patients and their visitors."