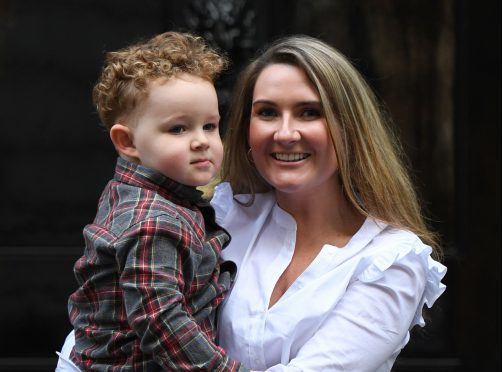 The fiancee of a British ex-soldier from Oban jailed in India took her justice campaign to Number 10 yesterday.
Loved ones of six former soldiers currently in a "hell hole" prison in Chennai handed in a petition demanding the Government do more to secure their release, marking four years since they were first arrested.
Yvonne MacHugh, who lived at Connel, near Oban, with Billy Irving, 37, a former member of 1 Para, was accompanied in Downing Street by their two-year-old son William, whom he is yet to spend a day at home with.
Fiancee of imprisoned pirate hunter fears for his life after mistreatment of fellow inmates
She said William has now been to India three times to visit his father.
The six, who a British lawyer says are victims of a miscarriage of justice, have been held for 1,461 days in India.
They were first jailed on weapons charges while working as security guards on ships to combat piracy in the Indian Ocean.
Indian coastguards boarded their vessel, the MV Seaman Guard Ohio, and arrested them for taking weapons into India's territorial waters in October 2013.
The charges were initially quashed when the men argued the weapons were lawfully held for anti-piracy purposes and their paperwork, issued by the UK Government, was in order.
But a lower court reinstated the prosecution and they were convicted in January last year and sentenced to five years jail.
Miss MacHugh said the Government's efforts "aren't good enough", adding: "I want them to openly say 'We know the men are innocent, release them now'.
"And fight for them."
The 28-year-old, said William is the best thing that has ever happened to her, adding: "He's shown me that I've got to be strong, and I can be strong.
"But it is horrific. Every single day … I'm now a single mum."
Miss MacHugh and said she thinks about getting married "every single day" that her fiance would do anything to be at home with them.
"We don't know what to do to have him released. We don't know if what we're doing is right. We don't know if it's wrong.
"But we just know we have to do something, and we're trying to do everything we can to bring him home."
In the meantime the six are facing the looming prospect of another Christmas behind bars at Puzhal Prison, the vast penal complex in Chennai, home to 3,000 inmates including murderers and rapists.
The families lobbied MPs on Thursday at Parliament before handing in the petition with 405,000 signatures at Number 10.