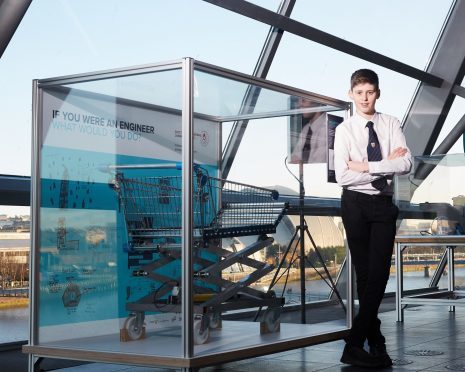 An electric shopping trolley designed by an 11 year-old Highland pupil in honour of his granny has become the latest exhibit at Glasgow's Science Centre.
The Trolley for the Elderly was dreamed up by Aidan McCann when he was a pupil at Cromarty Primary – and won him the Scottish Engineering Leaders Award.
His masterpiece came to life after watching his 4ft 11in grandmother struggle while out buying her daily messages.
The difficulties lay in trying to reach in and out of the trolley's main basket as a result of her age and height.
Aidan saw the competition as a platform to help the 75-year-old.
His trolley was designed to be fully electric, with a charging port and buttons to allow it to lowered or raised to boot level.
Rollers on the bottom of the main basket, and a flap at the end which folds down, then allow bought items to be transferred into a car with ease.
The youngster's vision has been brought to life by masters students at the faculty of engineering at the Strathclyde University.
Prior to it going on show, the now Fortrose Academy pupil said his invention had gone down well with the woman who inspired it.
"When my gran saw it, she really loved it. It was designed for her," she said.
Aidan's trolley joins a long and illustrious list of Scottish inventions, including James Watt's steam engine, John Logie Baird's television and Thomas Newcomen's bicycle.
Stephen Breslin, chief of Glasgow Science Centre, welcomed the new addition to their galleries. He said: "Projects like Primary Engineer are a great example of inspiring our young people and helping them find the pleasure and relevance in STEM."
Dr Andrew McLaren, vice dean of the faculty of engineering at Strathclyde, said: "Aidan's trolley invention showed creativity, and ingenuity – two of the most important traits in an engineer's inventory. He has identified a specific challenge, and proposed an innovative solution that really catches the imagination of the public."