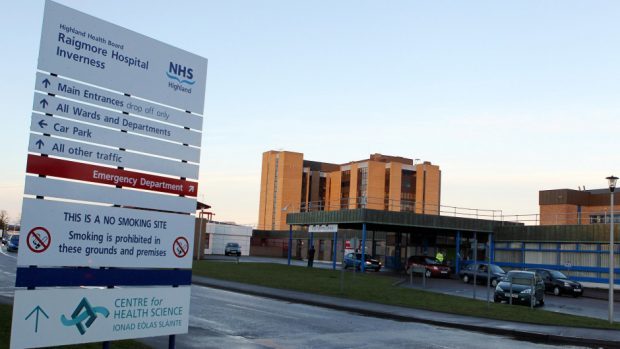 New figures show that the Highlands experienced the largest rise in A&E attendances in Scotland between Christmas and New Year.
Hospitals in the north dealt with 173 more people in the last week of 2017 compared to the same week in 2016 – a 16% increase.
Attendances at NHS Grampian and NHS Orkney actually reduced slightly year-on-year, by nine and eight attendances respectively, while NHS Shetland had 15 more admissions and NHS Western Isles had seven extra.
The data for the Highlands emerged just a day after Raigmore Hospital in Inverness was forced to suspend around 60 surgery cases and stop all visiting without special permission because of a huge surge in flu patients.
Across Scotland, statistics showed that A&E departments recorded the worst performance against a key waiting target since weekly reporting began.
The latest figures for the Christmas period – the seven days ending December 31 – show 78% of patients were seen and either admitted, transferred or discharged within four hours, well below the Scottish Government's 95% target.
An NHS Highland spokesman said: "The increase in the number of attendances at A&E is something we would expect to see at this time of year due to standard winter pressures.
"The increase in the number of people presenting with flu due to the high volume of flu circulating across the county at the moment also caused a peak in the number of attendances at our A&E departments."