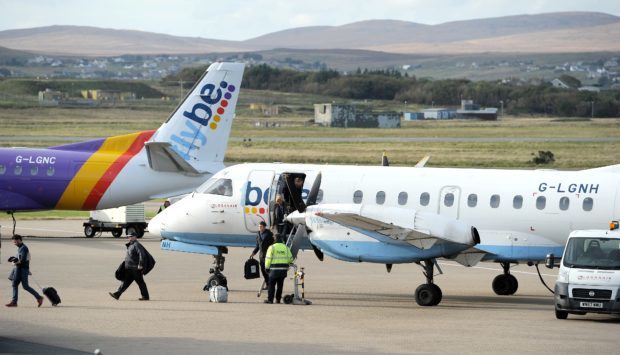 Fears are mounting over possible fare hikes on Loganair flights between island and mainland destinations after rival Flybe announced it will be quitting the routes.
The Flybe services between Glasgow and Stornoway and Kirkwall and Aberdeen, run by Eastern Airways, started in September and sparked a price war between the airlines which saw ticket prices plunge.
Fares vary depending on time away from the date being booked, but a Glasgow to Stornoway flight booked at the end of November last year for the start of January cost about £50. By comparison the average fare for the flight between 2013 and 2016 was £91.17 – not including Airport Tax or Air Passenger Duty.
Flybe announced yesterday that their last services will operate on March 4, leaving Loganair as the sole operator. The compant said decision was taken because the routes had not shown signs of being commercially viable.
Loganair said it would work with Flybe to provide seats on its services to guarantee travel plans and customers would be contacted by Flybe to arrange re-booking in the coming days.
Both Western Isles MSP Alasdair Allan and Orkney MSP Liam McArthur said the loss of competition was  "disappointing."
Mr Allan said: "Both companies seemed to be focused on pushing each other off this route, rather than on providing islanders with a wider choice of times of the day to fly at.
"This has caused more than a few issues in terms of timetabling and airport arrangements. I very much hope that Flybe's competitor, Loganair, will now ensure there is the capacity that their island customers need, and stay away from the option of increasing fares. I will be writing to Loganair to seek assurances on this very point."
Mr Allan welcomed Flybe's other announcement that it will add 12 flights a week and a Sunday service between Aberdeen and Stornoway from March 5. He said he has asked the company to check that the revised timetable works better for islanders working offshore in the oil industry, as this has been a problem in the past.
And Mr McArthur said: "I have made clear to Loganair that islanders will be watching carefully to see how the company responds. Any move to increase fares or exploit the situation on these lifeline routes would be rightly condemned."
Mr McArthur added that Loganair's Managing Director, Jonathan Hinkles has told him this is not his intention.
Flybe's withdrawal of flights comes weeks after the airline pulled the plug on its Shetland to Aberdeen route, which also started in September.
Ryan Thomson, chairman of the Shetland Island Council's environment and transport committee, said at the time that before the competition came in, passengers were paying as much as £400 to £500 for a return flight compared to £70 post September.
Figures provided by Highlands and Islands Airports Limited (Hial) also revealed that passenger numbers had risen year-on-year from October to December at all three airports. At Kirkwall it rose by 10.4%, Stornoway by 11.5%  and Sumburgh by 26.8%.
Councillor Uisdean Robertson, chairman of Western Isles Council's transportation and infrastructure committee, said: "The problem now is that the prices will have to make the airline sustainable. I just hope Loganair are fairly rational and that their prices are maintained at a level people can afford.
"We will be looking to have a meeting with Jonathan Hinkles as soon as possible to thrash some issues out and get some understanding with the finer details."
What the airlines say
Roy Kinnear, Flybe's chief commercial officer, said: "We are naturally disappointed that passenger volumes on the Glasgow to Stornoway route have remained below the level needed to make it commercially viable for either Flybe or Eastern Airways. However, we look forward to Eastern's established franchise flights continuing to serve customers travelling between Stornoway and Aberdeen."
Mr Kinnear said the increased frequency of the route will provide more choice for day returns and weekend breaks and gives more opportunities to connect with Flybe's flights from Aberdeen, including to London Heathrow, Manchester and Birmingham.
Mr Kinnear echoed his disappointment with the wihdrawal of the Kirkwall to Aberdeen flights.
Loganair's managing director Jonathan Hinkles said: "We have maintained since the outset of competition that these routes could not economically sustain two airlines. The competition has been short-lived but intense, and we are grateful to the people of the Northern and Western Isles for their tremendous support, which has been unwavering – seeing over seven in every ten passengers choosing to fly with Loganair.
"I'd also like to extend my gratitude to our entire team who have worked tirelessly to provide an excellent quality of service for passengers.
"Looking ahead, we recently already announced developments for the coming summer including larger aircraft on key routes, extra services between the islands and the first ever non-stop links between Stornoway, Orkney and Manchester."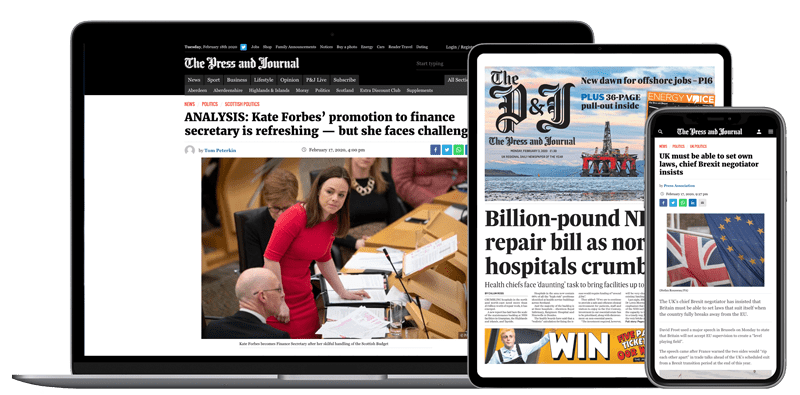 Help support quality local journalism … become a digital subscriber to The Press and Journal
For as little as £5.99 a month you can access all of our content, including Premium articles.
Subscribe